Louis XIV de France
by Charles Le Brun, 1667
a.k.a.
Louis le Grand
(Louis the Great),
le Roi Soleil (
the Sun King), Louis Dieudonne (Louis the Godgiven)
Son of
:
Louis XIII de France
& Anne de Austria.
The Sun King's physical appearance & personal qualities
.
"At eighteen Louis XIV, the
Dieudonne
, was of middle height, with somewhat broad shoulders, and his walk was very dignified. He threw his foot forward with a proud and at the same time graceful step. He was slightly pitted with the small-pox; his hair was dark and hung in richly-flowing waves; his eyes were at once soft and brilliant; his lps red and full. He spoke well and deliberately---sometimes with kindling warmth, and in animated gestures expressed with energy the dominant passion of his soul." (
Royal Favourites, Volume 2
: 386)
" . . . All contemporary accounts agree that

he was astonishingly handsome

at this stage. The beautiful, curling hair, sentimentally praised by the Grande Mademoiselle, was only one of his physical assets, but it was much prized at the time. . . Louis's figure was described as 'tall, free, ample and robust'. . . ." (
Love and Louis XIV
: 34-35)
Maria Teresa of Spain
Queen of France
by Unknown artist, b/w 1680/83
@ Musee Carnavalet
[See the
Black Nun of Moret below]
"
Queen Marie Therese was a plain if not ugly woman, devoutly religious but determined to do her 'duty'---at least twice a month---by her husband, even if it meant sharing their living quarters with his mistresses. She bore xix of Louis' children, although only one, the Dauphin Louis, survived infancy. The solitary suggestion of scandal to mar her married life occurred when a rival for Louis' affections, Madame de Montespan, claimed that Marie Therese had borne a black child after being given a black dwarf by an African prince. The queen said that during her pregnancy the dwarf once frightened her, and that that incident caused the child to be born black. . . ."
(
The Intimate Sex Lives of Famous People
: 339)
Louis XIV & family
by Jean Nocret, 1670
at Versailles Palace
@Wikipedia
Energetically acquiring beautiful women after initiation into sex
.
" . . . His virginity having been removed obligingly by his mother's faithful servant, Catherine Bellier, Louis had swiftly become sexually disenchanted with his plain Spanish bride, once she had produced him an heir, and---in the way of French monarchs---had energetically set to acquiring beautiful young women from the court. First there came Louise de la Valliere, with whom Louis fell passionately in love almost simultaneously with the beginnings of his obsession with Versailles. There there arrived the extraordinary, tall blonde beauty, Marie-Angelique de Fontanges (described by the arch-gossip, Mme. de Sevigne, as being 'belle comme une ange, sotte comme un paniere'). Poor Louise was forced to take flight to a convent. She was succeeded by infinitely wilier, sexually adept and more conniving Athenais de Montespan. . . ." (
La Belle France
)
His women were confidantes --- as well as lovers
.
"Although facially scarred by a childhood bout with smallpox,

Louis XIV was an athletic and witty charmer and an indefatigable lover

. Married twice,

he had innumerable affairs with noblewomen and palace servants alike

and was generous to them all, ignoring scandal while he rewarded them with jewels, estates, and rank. His women were confidantes as well as lovers, and he decreed legitimate his many children born out of wedlock. . . ." (
The Intimate Sex Lives of Famous People
: 339)
They're all his.
" . . . [T]he King continued with

the many amours he regarded as his due

: young

Anne Lucie de la Mothe

; mature and lovely

Lydie de Rochefort

; the 'divine nymph'

Marie du Fresnoy

, daughter of a laundress, elevated to the King's bed via that of his minister Louvois; lively

Olympe de Soissons

, niece of the late Cardinal Mazarin;

Anne de Soubise

in a particular pair of emerald earrings, indicating her husband's absence and her own availability; red-haired, blue-eyed

Isabelle de Ludres

. . . ." (
The Secret Wife of Louis XIV
)
Precocious fondness for sex
.
" . . . Precocious in his fondness for the female sex, and frivolous in his objects of pursuit, his whole time was spent in new and ever-varying pleasures, into which the new court was plunged. As one new fancy chased another in this round of voluptuous enjoyment, and as each fair face and graceful form received in its turn the homage of the young ruler, the most acute observer could have detected little in the court, that augured of future greatness, either to the crown or to the people." (
The American Review, Vol. 2, 1848, pp. 486-487
)
Royal quickies
.
"By 1667 the tell-tale signs of royal ennui with Athenais were evident to many courtiers. In the next three years the king went through a series of brief adulteries beginning with Mlle Claude de Vin des Oeillets, a chambermaid in service to Mme de Montespan. Next came Mme de Soubise, who court wits noted ironically suffered from the 'king's evil' (the skin disease of scrofula), but not for want of having been touched by the king. Then there was an erstwhile nun, Mme de Ludre, who served as royal mistress for only eighteen months, and finally the beautiful but noticeably slow-witted Mlle Marie Angelique de Fontanges. This sorry state of royal philandering epitomized Athenais's failure to hold the king's attention." (A Lust for Virtue: 90)
Sex can't wait
.
" . . . When Louis XIV once had to wait while one of his upper-class mistresses got ready, he'd impatiently gestured to her maid to get undressed: he'd have sex with her first, while he was there. . . ." (
Passionate Minds
: 202)
"In the hierarchy of Versailles, the most coveted position for a woman was without doubt that of official mistress or favorite. 'All the women,' Primi Visconti claimed, 'want to be the king's mistress,' and no wonder. The advantages were enormous: jewels, estates, chateaux, and coveted positions for relatives. These benefits accrued only if the union endured, however. In the fifty-five years of Louis XIV's personal reign, he had sexual relations with at least three dozen women of various ranks. Most were passing flirtations of which he tired within a few months or even weeks. The problem was not attracting the king's attention but keeping it. His distractions were numerous. First there were the mistresses from the past who suddenly reappeared, like Marie Mancini. Then there were the unmarried girls who attended the royal women. These maidens were not numerous: Anne of Austria kept only five in her household, but a few found a lover first in the king."
(Servants of the Dynasty: Palace Women in World History: 203-204)
Made love to 3 mademoiselles all at once
: " . . . [I]t was determined that Louis should enact the part of lover to some of the ladies of the household. To select an object for this feigned passion, the king, the princess, and their confidants chose several girls well calculated by their grace and beauty really to attract the attention of the king. The three who more particularly attracted attention were, Mademoiselle de Pons, who, we are told, was very handsome, but was not particularly clever; Mademoiselle de Chemerault, one of the queen's maids of honour, likewise handsome, but rather too clever; and Mademoiselle de la Valliere, one of the ladies of honour to Henrietta of England, who is described well by Madame de la Fayette as very pretty, very gentle, and very innocent. Madame de Motteville enters more into the detail of her appearance, and days, ' Her beauty had great attractions, by the brilliant fairness and the carnation of her complexion; by the blue of her eyes, which were full of sweetness; and by the beauty of her flaxen hair, which increased that of her countenance.' Her person, however, was not without defects; for though her figure was good and graceful, she was slightly lame. These three having been selected as worthy of being the ostensible objects of those gallantries on the part of the king which were only intended to cover more real and more dangerous feelings, Louis went rather farther than he had agreed upon with his fair sister-in-law, and instead of choosing one of the three to pay his court to, he made love to all three at once. . . ." (
The Life & Times of Louis XIV
: 104-105)
Louis XIV's lovers were
:
1)
Anne de Conty d'Argencourt
(1638-1718)
Lover in 1662
Maid-of-Honour to Anne of Austria,
Queen of France 1657.
a.k.a.
Anne-Madeleine de Conty d'Argencourt;
Mademoiselle de la Motte-Argencourt
Daughter of
:
Pierre de Conty d'Argencourt
&
Madeleine de Chaumont Berticheres.
First encounter in 1654
.
"When Louis was but sixteen, his attention was attracted by a certain Mlle. de la Motte d'Argencourt, 'who had neither dazzling beauty nor extraordinary intelligence, but whose whole person was agreeable.' His predilection for her society became so very marked that the Queen and Mazarin grew uneasy, and the former, one evening when Louis had conversed with the young lady rather longer than she deemed prudent, rebuked him sharply and openly. The monarch received the maternal reprimand 'with respect and gentleness'; but it would not appear to have had much effect, for, shortly afterwards, we hear of him speaking to Mlle. de la Motte 'as a man in love, who was no longer virtuous,' and assuring her that, if she would only return his affection, he would defy both the Queen and the Cardinal. The lady, however, from motives either of virtue or policy, declined to entertain his proposals, and the Queen having pointed out to her son that 'he was wandering from the path of innocence,' the King was moved to fears, confessed himself in his oratory, and then departed for Vincennes, in the hope that a change of scene might assist him in subjugating his passion. After a few days' absence, he returned, fully determine never to speak to Mlle. de la Motte again; but, 'not being yet wholly strengthened,' so far departed from his resolution as to dance with her at a ball, with the result that he was on the point of succumbing once more, when the Queen and the Cardinal put an end to the affair by packing the damsel off to a convent at Chaillot, where, Madame de Motteville assures us, 'she led a life that was very tranquil and very happy.'" (
Five Fair Sisters
: 65-66)
"After the marriage of Olympe Mancini [1657], the King cast a favourable eye upon a certain Mademoiselle de La Motte d'Argencourt, 'who had neither dazzling beauty nor extraordinary intelligence, but whose whole person was agreeable.' (
Madame de Montespan & Louis XIV
, p.5)
" . . . According to Bussy Rabutin in his 'Histoire amoureuse des Gaulles' she had an affair with the young Louis XIV of France before she became the mistress of Jean-Baptiste Amador de Vignerot du Plessis de Richelieu, marquis de Richelieu (1632-1662)." (
Les Chroniques de Loulou
)
Anne de Rohan-Chabot
Princesse de Soubise
@Wikipedia
French aristocrat & royal mistress.
Dame de Soubisse,
Dame de Frontenay.
Lover in 1669-1675 & 1673-1675
a.k.a. Anne-Julie de Rohan-Chabot, Anne de Rohan, Anne de Soubise, Madame de Frontenay, La Belle Florice, Madame Guillotine.
Lieutenant-General,
mar 1663.
"During his [Louis XIV] wife's first pregnancy he took a fancy to her seventeen-year-old lady-in-waiting, the blond, club-footed Madame de Soubisse. The affair lasted for several years; the King didn't completely go off her until her front teeth went black and fell out. She later fell seriously ill with a glandular disease known as 'King's Evil.'The was the name given to scrofula, or tuberculosis of the lymph glands, which causes swellings in the neck and was originally associated with Edward the Confessor. It was believed that all royals could cure the disease by touch. . . Madame de Soubisse's illness was not, it was noted, for want of being touch by the King." (
Royal Babylon: The Alarming History of European Royalty
: 93)
"It is said that Anne became Louis XIV's short term mistress in 1669 when the court was sojourning at Chambord at which Anne was present. At the time, Louis' full affections were between the Louise de La Vallière and her future successor Madame de Montespan. At the same time, she gave birth to her second son,Hercule Mériadec de Rohan (future Prince of Soubise yet styled as the Duke of Rohan-Rohan)." (
Wikipedia
)
" . . . Another candidate for a fling was the rather more agreeable Anne de Rohan-Chabot, Princesse de Soubise, with her reddish hair, white skin and her slanting brown eyes. 'La belle Florice', as she was known to her friends, maintained her beauty by a strict diet, surprising for her time, of chicken and salad, fruit, some milky foods and water only occasionally tinctured with wine. A devoted wife, still very young, at this stage she probably did reject the advances of the gallant King in favour of a flirtatious friendship." (
Love and Louix XIV: The Women in the Life of the Sun King
: 95)
"The 'fresh game' in question was Anne de Rohan, Princesse de Soubisse, dame du palais to the Queen, very beautiful, very discreet, and very greedy. She loved the King out of love for her husband, a very complaisant old gentleman indeed, nearly forty years her senior, who, unlike the poor Marquis de Montespan, had not the smallest objection to share with Jupiter, so long as Jupiter was prepared to make it worth his while. He was rarely seen at Court, was wholly occupied in the management of his estates, and never appeared to entertain the slightest suspicion of his wife's infidelity. After collecting for him all the honours, dignities, and hard cash, she could lay her hands on, Madame de Soubise, her object accomplished, retired from the field, though, if Saint-Simon is to be believed, there were occasional returns to favour, extending over a period of several years." (
Madame de Montespan and Louis XIV
: 184)
Pimp Hubby: ". . . Francois de Rohan-Montbazon, prince de Soubise (1631-1712), counted among his ancestors of the previous century the bastard son of the last duke of Brittany. . . But that was not all: even worse was the allegation that Soubise had acted as pimp for his wife, whom he had supposedly prostituted to Louis XIV in exchange for substantial rewards. (T)he charges were largely false and slanderous. Soubise and his wife were honorable people, not the Sun King's pimp and whore. Indeed, the lady had never been the king's mistress. . . . " (Saint-Simon and the Court of Louis XIV, p. 103-104)
[
Ref1
:Aristokratos Index]
Physical Traits & Personal Qualities
: ". . . Another candidate for a fling was the rather more agreeable Anne de Rohan-Chabot, Princesse de Soubise, with her reddish hair, white skin and her slanting brown eyes. 'La belle Florice', as she was known to her friends, maintained her beauty by a strict diet, surprising for her time, of chicken and salad, fruit, some milky foods and water only occasionally tinctured with wine.
First Encounter
: " . . . (T)here were rumours that the King was paying attention to the Princess Anne de Soubise,
nee
de Rohan-Chabot, who held office as a dame du palais in the Queen's household. Anne and Louis met, it seems, in the private rooms of one of the former's colleagues in the Queen's establishment, that is the Marechale de Rochefort, who willingly placed her apartments at the lovers' disposal. . . When she first attracted the King's attention she was in her twenty-eighth year, and it has been held . . . that she continued to meet the King secretly, from time to time, until the period of his marriage with Mme. de Maintenon. . . . " (
The Favourites of Louis XIV
, p. 231)
a.k.a.
Anne-Lucie de La Vieuville
Blond, blue-eyed beauty

: " . . . One of them was Anne-Lucie de La Motte d'Argencourt, who, while not a startling beauty, had a bewitching combination of blue eyes, blonde hair and naturally very dark eyebrows (black eyebrows, unlike black hair, were much admired at the time). Furthermore, she shared Louis's 'violent passion' for dancing. . . ." (
Fraser, 2007, n.p.
)
"

A perfect beauty

: The Marquis de Sourches describes Anne Lucie as a perfect beauty. . . Anne Lucie appears to have been a very sprightly and coquettish young person,and having been persuaded to try the effect of her allurements on the King, it seemed for a time as if she would really capture him." (
The Favourites of Louis XIV
, p. 126)
A diversionary affair

: "Another intrigue indeed supervened, and the King showed a strong disposition to add Mademoiselle de la Mothe Houdancourt to the number of those who yielded to his seductions; but some feelings of virtu on the part of the young lady herself, it would seem, fortified by the vigorous morality of the Duchess of Navailles, and some iron gratings which she caused to be placed on the roof of the palace around the apartments of the maids of honour, saved Mademoiselle de la Mothe, and left Mademoiselle de la Valliere in full possession of the field. Mademoiselle de Montpensier, however, states her firm conviction to have been, that Louis's attachment to Mademoiselle de la Mothe was merely affected, for the sake of concealing his more real passion for the unhappy Louise de la Valliere." (
(
The Life and Times of Louis XIV
:
219)
"Among the maids of honour of Anne of Austria was a young lady named Anne Lucie de la Mothe Houdancourt. Louis, though not long married, showed ns of others bring upon even the virtuous. The queen-dowager, Anne of Austria, was living at St. Germains when Mademoiselle de la Mothe Houdancourt was received in some symptoms of admiration for this
debutante
in the wicked ways of the court. Gay, radiant in the bloom of youth and innocence, the story of this young girl presents an instance of the unhappiness which, without guilt, the sin of others bring upon even the virtuous. The queen-dowager, Anne of Austria, was living at St. Germains when Mademoiselle de la Mothe Houdancourt was received into her household. The Duchess de Noailles, at that time
Grande Maitresse
, exercised a vigilant and kindly rule over the maids of honour; nevertheless, she could not prevent their being liable to the attentions of Louis: she forbade him however to loiter, or indeed even to be seen in the room appropriated to the young damsels under her charge; and when attracted by the beauty of Anne Lucie de la Mothe, Louis was obliged to speak to her through a hole behind a clock which stood in a corridor. Anne Lucie, notwithstanding this apparent encouragement of the king's addresses, was perfectly indifferent to his admiration. She was secretly attached to the Marquis de Richelieu, who had, or pretended to have, honourable intentions towards her. Everything was tried, but tried in vain, to induce the poor girl to give up all her predilections for the sake of a guilty distinction---that of being the king's mistress: even her
mother
reproached her with her coldness. A family council was held, in hopes of convincing her of her wilfulness, and Anne Lucie was bitterly reproached by her female relatives; but her heart still clung to the faithless Marquis de Richelieu, who, however, when he saw that a royal lover was his rival, meanly withdrew. Her fall seemed inevitable; but the firmness of Anne of Austria saved her from her ruin. That queen insisted on her being sent away; and she resisted even the entreaties of the queen, her daughter-in-law, and the wife of Louis XIV; who, for some reasons not explained, entreated that the young lady might remain at the court. Anne was sent away in a sort of disgrace to the convent of Chaullot, which was then considered to be quite out of Paris, and sufficiently secluded to protect her from visitors. According to another account, a letter full of reproaces, which she wrote to the Marquis de Richelieu upbraiding him for his desertion, had been intercepted." (
The Wits and Beaux of Society
: 51-52)
4)
Anne-Madeleine de Lisle Marivault
(d.1698)
Lover in 1657
.
a.k.a. Anne-Madeleine de l'Isle Marivaux
.
Daughter of
:
Francois de L'Isle Marivaux,
Marquis de Marivaux
& Catherine de Caillebot.
Wife of
:
Jean-Louis Louet de Calvisson
(1630-1700)
Bonne de Pons
Madame d'Heudicourt, 1660?
by Unknown artist
@ Musee Francisque-Mande
French aristocrat & royal mistress
Lady-in-waiting to Queen Maria Theresia
a.k.a. Bonne d'Heudicourt, Bonne de Pons d'Heudicourt, la Grande Louve, Mademoiselle de Pons, Madame d'Heudicourt
.
Daughter of
:
Pons de Pons
& Elisabeth de Puyrigauld.
Wife of
:
Michel III Sublet,
Marquis d'Heudicourt,
Master of the Hunt at the Court,
mar 1666.
Famous for her beauty & coquetry

: "Bonne de Pons, a relation of the marshal d'Albret and wife of the marquis d'Heudicourt, was a lady famous for her beauty and her coquetry. Louis Xiv seems for some time to have divided his attentions between her and Mlle. de la Valliere. . . ." (
A Manual of French Literature
: 143)
A bit mad, but as beautiful as the day

: "Francoise's friend Bonne de Pons, 'a bit mad' but ' as beautiful as the day,' had narrowly missed becoming the King's mistress, and she was quite annoyed about it. In 1661, at the age of sixteen, she had been taken to court with the wine-loving marechale d'Albret, and while there had engaged the interest of the twenty-three-year-old King, one year married and already desperately disenamoured of his podgy Spanish wife. The marechale's friends, 'perhaps pushed by the marechal,' persuaded her to pack her niece swiftly off home before anything untoward could happen, and so, on the pretext of an illness on the past of the marechal, she went. Bonne's dismay was great when she found her uncle-cousin d'Albret in perfect health, but he managed to console her, 'or so the gossips say,' by taking her as his own mistress instead. By the time she had managed to return to court in the mid-1660s, Bonne's hopeful bark had sailed: the King had already chosen a mistress, Louise de la Valliere, another sixteen-year-old virgin, sweet, shy, and attractive despite a small bust, uneven teeth, and a slight limp, these last to Bonne's sure disgust. . . ." (
The Secret Wife of Louis XIV: Francoise d'Aubigne, Madame de Maintenon
: n.p.)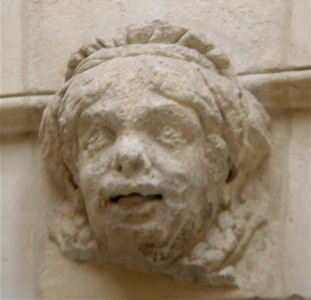 6)
Catherine-Henriette de Beauvais
(1614-1689)
Lover in 1653.
First mistress of Louis XIV
Lady-in-waiting to Anne of Austria, Queen of France
a.k.a. Catherine Bellier, Catherine-Henriette Bellier, Baronne de Beauvais, La Beauvais, La Borgnesse (by Queen Anne of Austria),
One-Eyed Catherine
,
One-Eyed Caton
, One-eyed Kate.
Daughter of: Martin Bellier.
Wife of: Pierre de Beauvais, Baron de Beauvais.
The one-eyed woman who initiated the king into sex

:
" . . . Now fifteen, Louis was ready. Just as Charles II, while still Prince of Wales, had been seduced by the opulent Mrs. Christabella Wyndham, Louis is always supposed to have been initiated by one of his mother's trusted ladies-in-waiting (she had taken part in the flight from the Palais-Royal on that fateful night). 'One-eyed Kate', as the Baronne de Beauvais was nicknamed, was about twenty-four years older that Louis, much closer to this mother's age that his own. The incident was said to have taken place as Louis was on the way back from the baths -- 'she ravished him or at least surprised him' -- and to have bee enjoyable enough to be repeated on several more occasions." (
Love & Louis XIV
: 37-37)
The king's first sexual encounter at age 15

: "The Queen's vigilance was, however, powerless to save the young sovereign from the wiles of the intriguing
femme de chambre
, Madame de Beauvais, the same lady who had lent herself to the schemes of the presumptuous Jarze, and had received a term of exile for her pains. Madame de Beauvais, called by her royal mistress '
Cateau la borgnesse
,' was very far from being beautiful, while her youth was only a memory; but she was 'a woman of experience,' who possessed '
l'humeur galante au dernier point
'; and she had the distinction of opening that famous list which contains the names of La Valliere and Montespan." (
Five Fair Sisters
: 66)
The woman asked to relieve the king of his virginity

: " . . . Catherine Bellier, handmaiden to Queen Anne of Austria, Louis XIV's mother, was assigned the responsibility of relieving the young king of his virginity at the bequest of his mother. Amazingly, Catherine Bellier was extremely ugly. She was nicknamed 'One-Eyed' Caton. It was specifically because of her ugliness that she had access to the king's private chambers with raising suspicions of any 'hanky panky'. (
The Man Who Stole Louis XIV's Virginity
)
Personal & family background

: "Madame de Beauvais served at the court as chief lady-in-waiting to Anne of Austria, the wife of Louis XIII. She later became the first mistress of the young Louis XIV, thirty years her junior. She was the mother of Andre de la Betoulout (1629 – 1693), Seigneur de Frementau and Comte de La Vauguyon who was married the wealthy older widow Marie de Stuer de Caussade de Saint-Maigrin (c1611 – 1693), Comtesse de Broutay. Madame de Beauvais always retained the affection and regard of King Louis and was mentioned in the Memoires of the court historian the Duc de Saint-Simon." (
Russell
)
"Anquetil tells us that his Majesty next paid his addresses to La Beauvais, the first lady in waiting to the queen, 'a woman of experience,' and nicknamed by Anne of Austria La Borgnesse. She was dismissed [from] the service, but was soon afterwards reinstated, her Majesty being unable to get on without her. This matter would hardly deserve a remark, but for the fact of St. Simon having seen her at the toilette of Madame la Dauphine when she was old, 'was minus one eye, and wept with the other,' and yet 'accomplished marvels at Court, because from time to time she went to Versailles and saw the king, who spoke with her in private, and treated her with the greatest consideration. Her daughter,' adds Anquetil, ' was quite the contrary to her mother---she was exceedingly graceful and virtuous, and afterwards became Duchesse de Richelieu...." (
Bingham, Vol., 1, 1890, p. 433
)
Lover in 1658-1660
.
Superintendent of the Queen's Household
a.k.a. Olimpia Mancini
Daughter of: Lorenzo Mancini & Geronima Mazzarini.
Wife of: Eugenio Maurizio di Savoia-Carignano.