Emperor of the french 1852-1870.
Son of
:
Louis Bonaparte,
King of Holland
& Hortense de Beauharnais.
Napoleon III's physical appearance & personal qualities

.
" . . . Official documents say that he had chatain hair and eyebrows, grey eyes, a small mouth, thick lips, a pointed chin, and oval face, broad shoulders, and that he stooped a little. Such was the Prince Louis Napoleon from 1840-1848. As Emperor he had changed but little. His blonde moustache had become longer, the pale colour of his face had turned a little yellow---but his eyes remained unchanged. . . ." ((
Napoleon III and the Women He Loved
: 3)
" . . . Contemporaries were struck by the eyes of Napoleon III. 'They were eyes of enamel, without fire nor intelligence,' says a political writer of 1848. Indeed-Napoleon's eyes were those of his mother Hortense. They were small, of a bluish grey, and generally without expression---dreamy, and as if lost in space. They fixed one as if through a glass, and seemed to have been covered with a veil of dreaminess and languour. Yet those eyes could become marvellously animated when the Emperor was amuse, then they became caressing and lively. His look pleased the women." ((
Napoleon III and the Women He Loved
: 3-4)
Eugenie de Montijo
Empress of the Frence
by Pierre-Desire Guillemet
or Teofil Kwiatkovski, 1853
@ Musee d'Orsay
16th Condesa de Teba,
15th Marquesa de Ardales.
a.k.a.
Maria Eugenia Ignacia Augustina de Palafox Portocarrero de Guzman y Kirkpatrick,
Carrots,
Queen of Biarritz
.
Notorious Virgin or What?

: " . . . She would give her body to Louis Napoleon for nothing less than marriage and, having failed to seduce her, he was obliged to marry her in 1853. Curiously, Wilfrid Blunt, always ready to debunk a myth, contradicts the story of Eugenie's modesty, maintaining that the Duke of Sesto was among her lovers and that when the Emperor married her she had recently been the mistress of the Marquis d'Aguado." (Mostyn, 2006, p. 11)[Ref1:Empress Eugenie]
Empress Eugenie's personal & family background
: "Born on 5 May 1826 in Granada, Eugenie Ignacia Augustina was the daughter of Dona Maria Manuela Kirkpatrick, whose father, William Kirkpatrick of Dumfries in Scotland, had fled Scotland after the 1745 Stuart rebellion and settled in Andalusia. Her father was almost certainly the Spanish Count of Teba, Don Cipriano de Guzman y Palafox y Portocarrero, the younger brother of Don Eugenio, Count of Montijo. Gossip, however, murmured that Eugenie's father was either Lord Palmerston or Lord Clarendon until her mother wryly pointed out to Louis Napoleon, 'But, Sire, the dates don't correspond.' Nevertheless, influenced by the rumours, Queen Victoria's self-righteous consort Prince Albert did not approve of Louis Napoleon's marriage to Eugenie, remarking to King Leopold of Belgium that 'she is said to be British on her father's as well as her mother's side' because 'Lord Clarendon is supposed to be her father.' But, morals apart, Manuela was, in the words of Eugenie's biographer Robert Sencourt, 'original and bewitching, with Andalusian grace, English gentleness, French facility; yet always a Spaniard. . . She was one of those dauntless and glittering women who move as much by instinct as by stratagem towards the seats of power. She scattered pleasures about her and made joy an obligation.' . . ." (
Egypt's Belle Epoque: Cairo and the Age of Hedonists
: 10-11)
A fonder of petticoats

:
"Prosper Merimee wrote to Panizzi: 'He has the fault of being fonder of petticoats, than is proper for a young man of his age.' Napoleon was very much sought after by women, and he once said" 'Usually, it is man who attacks; as for me, I defend myself and I often capitulate.'" (
The True Story of the Empress Eugenie
: 81)
Marriage and conjugal affronts

:
"Under the best of circumstances a couple may prove to be incompatible. The imperial marriage was initially constrained by the publicity of palace life, and the couple had none of the privacy of a honeymoon so often necessary for a good adjustment. The gap between their ages was significant if not insurmountable, approximately eighteen years, but the difference in sexual experience was more serious. Not only had Eugenie had none, but she had a profound ignorance of a husband's needs that even the passing years did not remedy. His infidelities began about six months of marriage. In every other respect he was a perfect husband, and she never had any doubt that he loved her. On the other hand, the 'conjugal affronts' that she began to experience were mortifying, especially since she could really not understand their reason. Her conception of a wife's role was only too clearly revealed in 1865 at a time when the imperial family was promoting the marriage of Anna Murat to Lord Granville, which Anna was resisting: 'Tell her,' the empress said to Walewski, 'that after the first night it makes no difference whether the man is handsome or ugly. By the end of the week it's the same old thin.' And she attributed the emperor's infidelities not to his sensual needs but to the monotony of his imperial situation of which she was a part. She brought him nothing new or fresh:
So, man roams!' She did, however, manage to produce an heir to the throne. But after the birth of the prince imperial on March 16, 1856, which nearly killed the empress, her physicians told her that another pregnancy probably would be fatal. his became the excuse to deny the emperor further secual relations. . . ." (
The Mortal Napoleon III
: 52-54)
A seeker after pleasure
: "Yes, indeed he liked women, and no one could contradict the statement after having read the pages of his many-sided life. This sentence makes a
resume
of his simple uncomplicated psychology. All through the long days of misfortune, exile, and glory, which the most astonishing destiny dealt out to him, he was a seeker after pleasure.
He liked women like a Bonaparte, a Napoleon and an Emperor
: In Switzerland he found tender melancholy decorated with Germanic tastelessness among the national beauties; in England, he restrained passion of the Sussex Brewer's daughter insinuated itself into his blood; and in Italy those electric, which corroded and burnt his marrow; and he met in France his beloved or Margot's lips---Margot, the comrade and friend of pleasure, whose lips were wet with champagne quaffed at the feasts of cruel Eros. He tasted every pleasure, goaded on and enticed by the desire of the unknown and unforeseen, dreaming of a new Cythera, who was to be found at the end of every beaten track. Not a single hope or joy was hidden from him. He was Bonaparte, a Napoleon, and an Emperor! And he had the gift to make himself beloved. And he used his gift abundantly. . . ." (
Napoleon III and the Women He Loved
: 245)
A historical womanizer: "He has a historical reputation as a womanizer, yet he referred to his behaviour in the following manner: "It is usually the man who attacks. As for me, I defend myself, and I often capitulate."
Napoleon III's numerous love affairs & mistresses
: "
Among his numerous love affairs and mistresses were: his cousin Mathilde Bonaparte, Maria Anna Schiess, Alexandrine Éléonore Vergeot, laundress at the prison at Ham, mother of two of his sons, Elisa Rachel Felix, the "most famous actress in Europe", Harriet Howard, wealthy and a major financial backer, Virginia Oldoini, Countess di Castiglione – spy, artist and famous beauty, sent by Camillo Cavour to influence the Emperor's politics, Marie-Anne Waleska, Justine Marie Le Boeuf, also known as Marguerite Bellanger, actress and acrobatic dancer. Bellanger was falsely rumoured to be the illegitimate daughter of a hangman, and was the most universally loathed of the mistresses (though perhaps his favorite) and Countess Louise de Mercy-Argenteau, likely a platonic relationship, author of The Last Love of an Emperor, her reminiscences of her association with the emperor
."
(
nursemyra, 2011, May 10
)
Napoleon was a noted voluptuary with an insatiable sexual appetite

:
" . . . Emperor Napoleon III was a noted voluptuary who had enjoyed the attentions of numerous mistresses both before and after his marriage to Eugenie de Montijo ten years earlier. Among their ranks had been an Italian countess, Virginia de Castiglione, and Marianne de Walewska, the wife of his cousin, the Minister of State. His sexual appetite was said to be insatiable. Rumor had it that each evening a different woman was brought to the Palais de Tuileries, undressed in an anteroom, and escorted to the bed of His Imperial Majesty, who would exert himself until (in the words of one of these bedmates) 'the wax on the ends of his mustache melts, causing them to droop.' Whatever the truth of these stories, in the spring of 1863 he was certainly enjoying a dalliance with a twenty-three-year-old former dressmaker and circus rider named Justine Leboeuf, who called herself Marguerite Bellanger, dressed in men's clothes and lived in the house in which he had installed her in the pleasant suburb of Passy." (
The Judgment of Paris: the Revolutionary Decade that Gave the World Impressionism
: n.p.)
A womanizer of an imperial scale
.
"Long before, Louis Napoleon had discovered that Eugenie took no pleasure in intimate marital relations---she called sex 'filthy.' For his part, he enjoyed the company of ladies of easy virtue, not to mention the wives of several of his senior officials, including that of Foreign Minister Walewski. This list of his conquests was not only long, it was public, including the companions and ladies-in-waiting of the empress. For all his charms and admitted interest in major social causes, including new hospitals, schools, and housing, Napoleon III was at the same time thick-skinned to the point of deeply wounding and publicly humiliating Eugenie. Harriet Howard and her children and his own prison-born bastards were long out of sight. But then there had been Augustine Brohan, Alice Ozy, Countess Parada, Countess de La Bedoyere, the Countess Walewska, Madame Rimsky-Korsakov, and now La Castiglione; and later, Marguerite Bellanger, Valtesse de la Bigne, and Countess Mercy-Argentau, without countng 'the actresses' and the ladies of the court. Louis Napoleon was indeed a womanizer of an imperial scale." (
The Shadow Emperor: A Biography of Napoleon III
)
Changes of fortune in the careers of the best-known mistresses

:
"Kurz very interestingly sums up the changes of fortune in the careers of the Emperor's best-known mistresses: 'The vanished sun of Imperial favour was followed only by a chilling darkness. Miss Howard, dropped on the eve of the Emperor's marriage, lived on until 1865 in the vast chateau of Beauregard near Paris, where a suite of rooms was kept ready for the Emperor who never called. Mme de Castiglione returned to Paris, became involved with dubious bankers and murky manipulators, ending her days behind permanently closed shutters near the Place Vendome from which she ventured forth only after dark. Mme Walewska, after the death of her husband in 1868, declined into a bourgeois marriage, and Marguerite Bellanger later led a penitent life of the greatest respectability and charity. For all these, normal life ended with their fall from the dangerous heights to which the Emperor had briefly raised them. He was always generous, making their material existend easy, but he forgot them, and so did the world.'" (
The Affairs of Women: A Modern Miscellany
: 27)
Court Life of the Second French Empire 1852-1870
@archive.org
Descendants of Napoleon III @stoessel.wordpress
Kaiser Napoleon III War Frichtle @medien-berichte
Napoleon III @TheRoyalForums
Napoleon III & the Women He Loved
@archive.org
Napoleon III and His Court @hathitrust.org
King of Holland,
Prince of France 1810,
Comte de Saint-Leu,
Constable of France 1808.
a.k.a. Louis-Napoleon Bonaparte, Luigi Buonaparte, Lodewijk Napoleon, Konijn van 'Olland (Rabbit of 'Olland)
Son of
:
Carlo Buonaparte
& Letizia Ramolino.
Husband of
:
Hortense de Beauharnais,
mar 1802.
"Who was this Georges Ville? When Napoleon Bonaparte apportioned the conquered countries of Europe to his brothers, Louis Bonaparte received in 1806 the newly established throne of Holland. Louis Bonaparte was married, though rather indifferently, to Hortense Beauharnais, the daughter of Josephine, Napoleon's first Empress, and her previous husband, the Vicomte de Beauharnais. Louis was not interested in kingship; he had little sympathy with his brother's efforts to form a European bloc and made the cession of Brabant to France an excuse to abdicate in 1810. Louis found greater happiness with the housemaids of Hortense and to one of these was born Georges Ville at Port Saint-Esprit (Gard), taking his name from Georges Ville, a police commissioner at Lyon who was asked to marry the housemaid. Hortense, just as unfaithful, had a lover, the comte de Flahaut, as a result of which Charles, the future duc de Morny, was born in 1811. Ville and Morny were, therefore, the half-brothers of Louis Napoleon Bonaparte, a legitimate son of Louis and Hortense, who was to become Napoleon III in 1852 following a
coup d'etat
in 1851 which was organised by Morny. Little is known of Ville's early life except that he was one of Boussingault's students at the Conservatoire, probably in 1846, and that he left for a post at the Ecole de Pharmacie before returning to the Convservatoire in 1848 as demonstrator to Boussingault." (
Boussingault: Chemnist adn Agriculturist
: 110)
Hortense de Beauharnais,
Queen of Holland
(1783-1837)
a.k.a. Duchesse de St. Leu
.
Physical Traits & Personal Qualities: "Bonaparte became consul in December, 1799, Hortense attaining about the same period her eighteenth year. She was at this time a very pretty and pleasing young lady. Her light silken hair played round a face of pure pink and white, though her color was slight, and her complexion therefore rather pale than florid. Her eyes were a soft and penetrable blue. Her figure was slender, and her carriage graceful. Her manner was engaging, combining the stimulating vivacity of a Frenchwoman with the languid suavity of a Creole. . . . " (Goodrich & Champagne, 1858, p. 283)

Persona or Character: ", , , She was witty, but not caustic. She cultivated flowers, and successfully transferred their color and forms to paper. She composed and sang ballads, and was an excellent amateur actress." (Goodrich & Champagne, 1858, p. 283)
"Hortense de Beauharnais, wife of Louis Bonaparte, had four sons, each by a different man but with the name Bonaparte (only the eldest by her husband), while the fourth was by her lover the Comte de Flahaut, himself the illegitimate son of Talleyrand. The son became the Duc de Morny and like his putative grandfather, foreign minister to a Napoleon. (Sainty, 2000, December 30)

"She was born in Paris, the daughter of Alexandre, Vicomte de Beauharnais. As a child she was a great favorite of her step-father, Napoleon I, and in 1802 married his brother Louis, King of Holland (1806-1810); the youngest of their three children became Napoleon III. In 1810-1811 she was the mistress of Comte Auguste de Flahaut, their son becoming Duc de Morny. She was created Duchesse de St. Leu by Louis XVIII (1814) at Czar Alexander III's request. She was a gifted artist and composer...." (

Houghton Mifflin Co., p. 129

)
Hortense, Queen of Holland
Lover in 1810-1811
"In 1811 Hortense de Beauharnais, daughter of Empress Josephine, found herself pregnant by her lover, a handsome soldier named Charles de Flahaut. Hortense had not lived with her husband, Louis Bonaparte, Napoleon's brother, for years. Though Napoleon had made them king and queen of the Netherlands in 1806, Hortense reaped little benefit from her exalted status. King Louis forced his wife to remain in her rooms---which smelled of sewage and overlooked a graveyard---while he enjoyed palace entertainments." (
Herman, 2007, p. 44
)
Bonaparte Princes & Princesses
.
Princess of the French Empire 1804,
Grand Duchess of Berg & Cleves 1806,
Queen of Naples & the Two Sicilies 1808,
Duchess of Lipona.
Jean-Andoche Junot, Duc d'Abrantes
by Henri Phillippoteaux, 19th cent.
@ Palais du Versailles
"Caroline Bonaparte never visited Berg, but remained in Paris where she was reputedly the lover first of General Junot and then of the dashing young Austrian ambassador, Count Clemenz von Metternich...." (Davis, 2006, p. 141)
2)
Charles Cavel
"...[h]er final lover was a young man called Charles Cavel, obviously on the make. Having failed to secure the contents of her will, he afterwards sold the family her letters for an alleged 60,000 francs." (
Horricks, 1995, p. 43
)
3)
Francesco MacDonald
"Achille's mother, Caroline, still brooded in splendid exile. Her flirtation with Prince Metternich having gotten her nowhere, she now played out her days at a palace in Florence as a faux countess with new lover Francesco MacDonald, her deceased husband's foreign minister in the heyday of the kingdom of Naples...." (
Tate, 2011, p. 151
)
"Her closing years years were sad indeed. Thought politically too dangerous to be allowed near other Bonapartes, once her children had grown up and left she had as her sole companion General Francesco Macdonald (who perhaps she married secretly). . . ." (
Napoleon's Elites
: 43)
4)
Prince Klemenz von Metternich
.
Queen Caroline's spouse & children
: She married, in 1800, Joachim Murat. "The question of a suitable marriage now came up. Jean Lannes had wanted to marry her; likewise Augereau; and even General Moreau had been mentioned as a possible husband. But Caroline had met and fallen for the handsome Joachim Murat on a visit to Rome, and as usual over these years she simply went to her brother and got her own way. She and Murat signed the marriage contract in the Palais du Luxembourg on January 18, 1800. The bride received a dowry of 40,000 francs and 12,000 francs worth of jewels and furs. As time went on she bore the marshal four children, but more significantly now devoted herself to obtaining ever-increasing wealth and status. She fully believed the end 'justifies' the means. If she couldn't get what she desired by pushing Murat's career or scheming with Talleyrand and Fouche, then she used flood of tears and bitter reproaches on Napoleon himself. She even slept with Junot when he was the Governor of Paris and therefore had precedence over her husband in the capital. (It got Junot the sack!) (
Horricks, 1995, pp. 41-42
)
Queen Caroline's physical appearance& personal qualities
: "...Caroline was quite clever and would later prove her governmental abilities in Naples. She was the only fair-haired member of the family, small and slender, not as beautiful as Pauline, but with a delightful pink and white complexion and brilliant, large eyes." (
Horricks, 1995, p. 41
)
French courtesan and mistress.
a.k.a.
Alphonsine Rose Plessis, the Lady of the Camellias
.
Wife of
:
Count Edouard de Perregaux,
mar 1846.
"Soon afterwards she caught the attention of th eDuc de Morny, the illegitimate son of Hortense Bonaparte, who set about transforming her into a worthy ducal consort When their relationship began, Alphonsine was barely literate. By the time in ended 18 months later, she had acquired a formidable appetite for elegant clothes and jewels, thoroughbred horses and literture -- her favorite novel was Manon Lescaut, Abbe Prevost's account of a young woman who sacrifises true live fir riches. In 1847, aged 17, she bore Morny a son who died a month later. Their affair did not long survive the chilfd's death. In 1841, age 17, who died a month later. Their affair did not long survive the shild's death. Rebranded a 'Marie Duplesis', she began
Charlotte-Napoleone Bonaparte
(1802-1839)
French artist
a.k.a. Comtesse de Sutvilliersstanisl
.
Leopold Robert, 1837
"...In Rome she had had a brief affair with a Swiss artist, Louis-Leopold Robert, whose studio in the Via Sistina she and her husband had often visited in the past for instruction in drawing, painting, and lithography. During the course of painting Charlotte many times, Leopold fell in love with her... She did not return Leopold's love, which perhaps accounts for her expression. Tragically, it may have been from this unrequited passion that in 1835 Leopold committed suicide...." (Stroud, 2000, p. 151)
"After the death of her husband, Bonaparte lived with her mother in Florence. Among the visitors they received there was a Polish count whose lover Bonaparte is said to have become. In late 1838, finding herself pregnant, she went to Rome and then headed for Genoa. On the way she began to hemorrhage, and at Sarzana she underwent a cesarean section. The baby, however, was already dead and soon after, on March 2, 1839, Bonaparte herself died from loss of blood. . . ." (Past and Promise: Lives of New Jersey Women: 57)
"...Later a group of exiled Polish aristocrats replaced the artists at Charlotte's salon, and she fell deeply in love with one of them. Count Potocki was married, but his wife was far away in Poland. He was apparently the father of Charlotte's unborn child." (
Stroud, 2000, p. 151
)
Physical appearance & personal qualities
: " . . . Bonaparte was petite, with large dark eyes, an intelligent face, and great vivacity. She was said to be capricious and sometimes brutally frank, but her father was rich, and many suitors called at Point Breeze. . . ." (
Past and Promise: Lives of New Jersey Women
: 56)
Personal & family background: "Charlotte Bonaparte was the second surviving child of Joseph and Julie (Clary) Bonaparte. Her father, the elder brother of Napoleon Bonaparte, was born in Corsica; her mother was the daughter of a wealthy merchant of Marseilles, France. Bonaparte grew up at her father's country estate in Mortefontaine and in Paris." (Past and Promise: Lives of New Jersey Women: 56) [Bio1:Napoleon Sites]
2nd Prince of Canino and Musignano.
Maria Testaferrata
(1820-?)
"Donna Marie Said-Testaferrata born in Santi, North of Rabat, Malta in the year of 1820 to Principe Salvatore Said and Marie Dimech-Testaferrata. She met Prince Charles Lucien Bonaparte, Principe di Canino e Musignan in 1838. Prince Charles took an instant liking to her and had placed her in his custody at his apartment where she was to be his mistress and lady of the night for his pleasures. Marie slowly sank into life in her new home and the trappings of the Italian aristocratic friends, feelings for home slowly faded and her love of Charles grew fonder. Marie was being paid to live a peaceful and colorful life with Charles. But Charles's wife had been aware of Marie's existence and too had taken a liking and invited her to her home from time to time. This more or less kept Charles loyal to his wife and his mistress, no different women at his bedside, one could say a complete life with one's desires at ease. The Italian Aristocracy had always kept mistresses and it was a way of life in the 19th century. Her travels were mainly in and out of Rome to a country place, palace or mansion for the day of tea and activities, though Marie was earning the respect of her new friends as a typical role model. Marie bore four children in the five years of living in Rome, and the year 1845, Charles Lucien wanted no more, her job was done. Though her children had become part of Charles-Lucien family and even registered as born by his wife, not as Marie's children. Her first son was Napoleon Charles Bonaparte, born 5th February 1839 , succeeded as the 5th Principe di Canino e Musignano and Principe by the Pope. He later Died 189 in Rome, and married Maria Cristina de Principi Ruspoli, and had three children." (Monarchy Forum)
Elisa Bonaparte
(1777-1820)
Princess of Lucca & Piombino,
Grand Duchess of Tuscany.
a.k.a. la Semiramide di Lucca
1)
Barone Capelle

.
2)
Fontanes

.
Jerome Bonaparte
King of Westphalia
@Musee national du Chateau de Fontainebleau
Rear-Admiral 1806,
French Prince 1806 & 1852,
General of Division 1807 &1848,
King of Westphalia 1807-1813,
Prince of Montfort in Wurttemberg 1816,
Governor of Les Invalides 1848 & 1852,
Prince of France,
Marshal of France 1850,
Senator 1852,
President of Senate 1852
The least well-looking of all his family

.
". . . Jerome Bonaparte was described by the Duchesse d'Abrantes---who, however, was no friend of his, and was little inclined to do him even justice---as 'the least well-looking of all his family.' She allows him

a good figure

. According to less prejudiced critics, he was in his youth small, spare, and graceful, dark-haired and dark-eyed. His dandyism, of a long-last era, renders his early portraits rather than attractive to modern eyes. In the later representations of him he is not altogether unpleasing, but he in no way suggests either his daughter, or his son. . . ." (
The Princess Mathilde Bonaparte
: 19)
Madame Junot's impressions of Jerome
.
" . . . Madame Junot, so merciless in describing Catherine's physical defects, is certainly no more kind to Jerome at this period.

The least well-looking of Napoleon's brothers, she calls him

. His head was close to his shoulders---the fault of all the younger Bonapartes except Pauline.

He was pleasing neither in face nor in figure

. . . ." (
The Burlesque Napoleon
: 155-156)
Jerome's Kingdom of Westphalia
.
"All the territory of the Duke of Brunswick-Wolfenbuttel, who was killed at Jena, was included in the new kingdom; nearly all Hesse-Cassel; the bulk of Prussia's lost possessions on the left bank of the Elbe; Prussia's fief of Stolberg, and Hesse-Cassel's fief of Rietberg; Göttingen, Grubenhagen, and Osnabruck, belonging to George III, as Elector of Hanover, and the Abbey of Corvey, belonging to the Prince of Orange. (Mémoires et correspondence du Roi Jerome, iii, p. 40)." (
The Burlesque Napoleon
: 189)
a.k.a. Betsy Bonaparte, the Belle of Baltimore
.
mar 1803, ann 1805, div 1815.
Betsy Patterson's physical characteristics and personal qualities

: " . . . She is described as having possessed ;the pure Grecian contour.' 'Her head was exquisitely formed, her forehead fair and shapely, her eyes large and dark, with an expression of tenderness which did not belong to her character; and the delicate loveliness of her mouth and chin, together with her beautifully-rounded shoulders and tapering arms, combined to form one of the loveliest of women. . . When she married Jerome her prominent characteristics were ambition, love of pleasure, and self-will. Under the influence of the cruel fate which the Bonaparte family brought upon her, she developed an admirable courage and a less admirable but surely pardonable hardness. Her native wit, encouraged perhaps by her early reading, was trained by undeserved humiliation into a bitterness which cause it to the said of her afterwards that she charmed with her eyes while she slew with her tongue. She has suffered in reputation from the vindictive remarks in her father's will. . . ."
(
The Burlesque Napoleon: Being the Story of the Life and the Kingship of Jerome Napoleon Bonaparte, Youngest Brother of Napoleon the Great
: 62-63)
Catherine's character
: "Sophia-Dorothea-Frederika-Catherine of Wurttemberg, the princess chosen to be the bride of the newest king in Europe, has furnished to her contemporaries and to subsequent writers alike a puzzle for which they have found it difficult to suggest a satisfactory explanation. Merely as the faithful and loving wife of the most notorious royal rake of his day, she might be dismissed as stupid. Against such a verdict there is a powerful protest of observers during life, including not the least acute men and women of the period. Napoleon himself, to the very last, had nothing but good to say of her. The tribute is well known which he paid to her at Saint Helena, when he said that she had 'with her own hand inscribed her name on the page of history.' In her fragments of diary, and in the mass of her correspondence which has been published, we are bound to recognise Catherine's great simplicity of character; but certainly there are more evidences of amiability than of strength. Her main fault, undoubtedly, was a lack of sense of the responsibility of her position. She was pleasure-loving, too, but in no dishonourable way. How then, it has been asked, could she reconcile herself to Jerome's ideas of pleasure, the chief of which was rooted in his dishonour as a husband? Still more, how could she be satisfied with him in the midst of his Court, as she always, in the accents of sincerity, protested herself to be? If she was not stupid, she could not be blind when all around her knew so much; and if not blind, how could she find contentment with a Jerome? The secret of the latter's fascination for his 'Trinette' must, apparently, remain unknown. As a rule, his power of attraction was merely superficial, or exerted itself only on worthless persons. But Catherine preferred ruin, and virtual imprisonment, with him to any easier lot without him, and declared that he made here perfectly happy." (The Burlesque Napoleon: 143-144)
Madame Junot's impressions of Katharina
: " . . . Napoleon superintended all arrangements, and according to these Catherine was not to arrive in Paris till seven on the evening of the 21st of August. The early part of that day she was to spend at the chateau of Raincy, where Madame Junot was deputed to receive her, and whither a suite, chosen for her from Josephine's household, was sent to wait on her. A full record of the events of the day was preserved by Madame Junot, on whose impressions we must rely. Catherine was not altogether pleasing on first view, says this writer. She was a fine woman, however, and there was a noble pride about her head, which would have been more striking still if her neck had not been short, as was her general figure. To make the most of her inches she carried herself very upright, throwing her head back on her shoulders. She could not be called exactly pretty, though her features were all good. Her eyes looked as though they might soften; but they never did, and this gave her a very haughty if not disagreeable expression. She seldom smiled; seriousness and calm marked her face rather than liveliness or grace. With fair hair, blue eyes, very white teeth she had a very fresh complexion, while her unfortunately inherited stoutness caused her to colour violently when agitated as she was when she reached Raincy. . . ." (
The Burlesque Napoleon
: 152-153)
First encounter

: " . . . It is agreed that it was in September that the two first set eyes on each other; and the earliest meeting is usually placed in the house of Samuel Chase, where Jerome was a visitor through the introduction of his friend Barney. But one writer, stating that Jerome and Elizabeth were first face to face at the Baltimore races, gives a strong verisimilitude to the story by describing the lady's costume on the occasion. Elizabeth wore a a buff silk dress, a lace fichu, and a leghorn hat with pink tulle trimmings and black plumes. Wherever it was that they were first introduced, Elizabeth's
reception of the French lieutenant was cold, for she had heard of his presumptuous reference to his belle femme. This state of affairs did not last long, Jerome being piqued by the show of resistance, and determined to overcome it. The society which surrounded the two fostered the growth of their acquaintance, and soon their mutual attraction was evident to all.'
(The Burlesque Napoleon: 65-66)
Jerome Bonaparte & Katharine von Wurttemberg
by Sebastian Weygandt, 1810
@Private collection
She wanted to leave her native Baltimore; he came to look for beautiful women

.
"Betsy Patterson was the Belle of Baltimore, yet all she wanted to was was leave the city in her dust. And at 18, Patterson saw her chance in Jerome Bonaparte. the 19-year-old brother of Napoleon, emperor of France. Booted from the French Ney, Jerome had come to Baltimore, lured by a sailor's promise that it was where to find America's most beautiful women." (
Baltimore Sun
)
2. Katharina von Wurttemberg
(1783-1835)
Queen of Westphalia
German memoirist
Daughter of

:

Friedrich I von Wurttemberg

& Augusta von Braunschweig.
Jerome , Katharina & family
" . . . Catherine of Wurttemberg inherited from her father, mockingly called 'the greatest king in Europe,' an excessive stoutness. She was small in stature, but carried herself very upright, and her head was well poised on a short neck. Her hair was fair, her eyes blue, and her complexion very fresh. The stoutness, somewhat modified, the good carriage and the fair hair all descended to the Princess Mathilde. So too did the fresh colour, which in daughter as in mother, at times of excitement turned to a deep crimson which was not altogether becoming." (
The Princess Mathilde Bonaparte
: 19-20)
3) Maria Giustina Pecori-Saurez
(1811-1903)
Marchesa Baldelli
mar 1853.
"Jerome took as his third wife the Marchesa Bartolini-Badelli, a widow of about forty, though still possessed of good looks in addition to a fortune. He suceeded in presenting himself to her in so desirable a light that she accepted what was virtually only a morganatic marriage, never allowing her to take his title even after his return to France. Apart from this he treated her with base ingratitude and finally drove her away from him." (The Princess Mathilde Bonaparte: 29)
Far from blameless domestic life

.
"It will have been gathered that the domestic life of Jerome Bonaparte, from the time when he married the Princess Catherine, had been far from blameless. even in the honeymoon period, at Fontainebleau, he was alleged to have shown very marked attention to the Grand Duchess of Baden. But as Stephanie Beauharnais and he had been friends in childhood, the malicious comments were quite possibly unfair. In the first month of his reign at Cassel, however, we have seen Jollivet writing of 'certain gallant adventures' which had damned the King in public esteem, of a Court dame on whose dismissal the Queen had insisted, and of the Breslau actress whom Le Camus had brought to Cassel at this master's desire. The latter lady, it appears had been considered by Jerome a suitable wife for his head valet Albertoni; but the ingenious plan had not been very successful, for Albertoni, though he received a dowry with his bride, found her too good-looking for life in Cassel, retired from the King's service, and took her to Paris. Other actresses were connected to Court scandal with the King, and the lesser stars of the dramatic profession certainly seemed to have a strong attraction for him. One, it was said, was secretly deported from Westphalia in a closed carriage, by no less orders that Napoleon's, much to Jerome's disgust. Usually, with the aid of obliging courtiers, he found little difficulty in lodging a temporary favourite discreetly in his capital; often, indeed, at his Court; for Catherine was marvellously unsuspicious about the appointment of her maids-of-honour. Jerome suffered little interference in his faithless career." (Burlesque Napoleon: 215-216)
Affairs in Silesia
.
" . . . Napoleon had a strong suspicion that Jerome was not finding life too hard at Breslau. Indeed, he wrote to him, nine days after this last bulletin, mentioning that 'a certain lady of Stuttgart' was complaining that Jerome was too gallant towards the ladies of Breslau. Was it true? he asked. It is not probable that the Princess Catherine had actually made any complaint, but it is more probable that stories were current in Germany about Jerome's life at Breslau. In particular, he was known to have attached himself to an opera-singer, whom Le Camus, on his behalf, induced to come to Cassel later. Other entanglements were spoken of also. Now, thought the Emperor might himself have one love affair in Poland, it was by no means suitable that Jerome, soon to marry a princess, should have a number of affairs in Silesia. It was necessary that he should recall to him the thought of the marriage in store for him." (
The Burlesque Napoleon
135-136)
Jerome Bonaparte
by Sophie Lienard
1)
Anna, Marchesa Azzolino
.
Natural offspring

:
1. Giulio
(1820-1856)
3)
Blanche Carrega,
Baroness Keudelstein
.
Bianca's four admirers
.
"Leaving aside all question of her husband, Bianca had four admirers. First there was King Jerome, and secondly the Prince Royal of Wurttemberg, brother to Queen Catherine, Jerome's wife. At the period which we have now reached in this narrative (1809-1810), the Prince, who subsequently proved his military ability in the command of some portion of the Allied forces during the Campaign of France, was for ever seeking one or another pretext to escape from Stuttgart and visit Cassel, to lay homage at the feet of the beautiful Bianca, for he declined to live with his Bavarian wife. Still, this was to the advantage of France, his infatuation for Bianca helping bind Wurttemberg to the French alliance. The admiration of a King and a Crown Prince was not sufficient, however, for Bianca. She counted a third admirer in Maubreuil, and a fourth in a certain Lasserre, a young and handsome Creole, who, on the occasion of one of Jerome's voyages, had followed him to Europe, and was employed in some petty clerkly post in the palace of Cassel. According to
la chronique scandaleuse
, Bianca, though favoured with the attention of a King, a Prince, and a Marquis, found the young Creole clerk more to her liking; and when one remembers the natural eccentricity not to say perversity of woman, and all the many similar examples which might be adduced, it is not difficult to believe in the accuracy of this report." (
The Wild Marquis
: 41-42)
Bianca's physical appearance & personal qualities

.
"It appears that the lady was very coquettish, very flighty, very beautiful. A Genoese by nationality, she had the 'black rolling eye' so much admired by Byron, who, if he had gone to Westphalia at this period, might never have reached Venice. It other respects the Baroness von Keudelsheim was no worse than some of those ladies of the Court of our Second Charles, whom Hamilton described so vivaciously, and from whom so many prominent English peers and even statesmen have traced their descent." (
The Wild Marquis
: 41)
". . . It is true that we very soon begin to hear of a young Genoese woman, Bianca or Blanche Carrega, whom he met during his mission to her native place, and who attached herself to his fortunes in such a way as to leave no doubt of their relations. But this did not take place at once, and we need not consider his early letters to Elizabeth as pretending to sentiments which he had ceased to feel. . . . " (
Sargent, 1905, pp. 106-107
)
"As has been stated already, Jerome made the acquaintance of Blanche Carrega when he was at Genoa, mourning for the loss of his first wife. He had assisted her to marry a Frenchman named La Fleche, whom he took very much into his favour as the reward of a base complacency. On his elevation to kingship he appointed La Fleche Master of the Ceremonies to himself and Blanche maid-of-honour to the Queen. After this charming arrangement he proceeded to create La Fleche Baron Keudelstein, and shortly afterwards Councillor of State and Superintendent of the Civil List, a post which gave him plentiful opportunities of increasing his own income.
"To depict the Court of Westphalia aright, one would need the pen of Count de Gramont's historiographer, the inimitable Anthony Hamilton. It has already been mentioned that among the bevy of beauties surrounding King Jerome there was a certain Bianca Carrega, married to a certain money -grubbing Lafleche, who, for his wife's sake, had been created Baron von Keudelsheim. Bianca, who ranked as a Lady of Honour of the Court, had a sister bearing the very un-Italian name of Jenny. Maubreuil's name, after his return to cassel, was coupled, rightly or wrongly, with those of both sisters, as is shown by a report which Reinhard, Napoleon's family Ambassador, addressed to Champagny, the Minister of Foreign Affairs. The Emperor, of course, took no interest whatever in Maubreuil's amourettes---at least, so far as Maubreuil was concerned personally---and if Reinhard thought it his duty to report this matter, it was solely because Bianca Carrega's name was also coupled with King Jerome's." (
The Wild Marquis: The Life and Adventures of Armand Guerry de Maubreuil, Marquis D'Orvault
: 40-41)
4)
Comtesse Collin de Plancy
.
Diana von Pappenheim
German aristocrat & royal mistress.
Palastdame in Kassel 1802,
Hofdame in Weimar 1805
a.k.a. Diane de Waldner de Freundstein, Diana, Freiin Waldner von Freundstein
.
Daughter of
:
Gottfried Waldner von Freundstein
& Friederike Freiin von Stein zu Nord und Ostheim.
Wife of
:
Wilhelm Maximilian, G
raf Rabe von Pappenheim
(1768-1813)
mar 1806
1) Jenny von Gustedt,
a.k.a. Jenny von Pappenheim
.
2) Pauline von Schonfeld
(1813-?)
"In 1908 Braun published the first of several works of considerable accomplishment and popularity. Im Schatten der Titanen: Erinnerungen an Baronin Jenny von Gustedt is an account of the life of Braun's maternal grandmother, Jenny von Gustedt (1811-1890). Von Gustedt was the illegitimate daughter of Napoleon's brother, Jerome Bonaparte (1784-1860), conceived during a passionate affair with Diana von Waldner Pappenheim (1788-1847), while Bonaparte was King of Westphalia." (Lily Braun, 1865-1916: German Writer, Feminist, Socialist: 82)
6)
Ernestine von Pueckler und Limpurg
(1784-1824)
a.k.a. Ernesta de Loewenstein
.
Wife of
:
Georg Wilhelm Ludwig von Lowenstein-Wertheim-Virneburg
(1775-1855)
1) Charles Philippe Henri Bach
(1811-1870)
2) Achille Bach
(1813-1819)
8)
Grafin von Lowenstein-Wertheim-Freudenberg
.
1. Charles-Henri Bach
(1811-?)
2. Melanie von Wertheim-Wietersheim
9)
Giustina, Marchesa Bartolini-Badelli
(1811-1903)
wife of General de Coudras
:
" . . . He had recently been captivated by the charms of a young girl, whose parents had shown a perfect willingness to sacrifice her in return for an official post for her father. In order to keep her near the Court, the kind had found her a husband, in pursuance of his usual method, and rewarded this miserable creature also with a post. When he left Cassel on his way to Kalisch, though he continued to write to the Queen daily, the Court and townspeople did not fail to notice that Madame Escalonne---such was the new favourite's name---had also left; and the next heard of her was that she was at Kalisch. Yet the profligate commander was not only trusting to win himself immortal fame as a general, but also entertained expectations of being made King of Poland." (Burlesque Napoleon: 295)
12) Mademoiselle Hennin
". . . (E)ven if one admit that Reinhard may have some private reason for wishing to prejudice Napoleon against Jerome, his reports must certainly have a basis of truth. Their accounts of political imprudence, prodigal wastefulness, and even lax morals quite angered the Emperor at times. His wrath was fully aroused on one occasion, when a certain Mademoiselle Hennin, a vivacious Parisian actress, was invited to Cassel. By his orders she was summarily arrested and brought back to France; but in this we think that the Emperor was actuated less by a fear that his brother's susceptible heart might be fluttered by the lady's smiles than by a desire to check Jerome's general passion for amusement and frivolity. . . . " (
Vizetelly, 1905, p. 26
)
13)
Maria Antonia von Hohenzollern-Hechingen
,
Grafin von Truchsess-Waldburg
(1781-1831)
Wife of
:
Friedrich Ludwig Truchsess,
Graf von Waldburg-Capustigail
Christine-Egypte Bonaparte
(1798-1847)
a.k.a. Madame Jouberthon
(lover, then 2nd wife, in 1802)
Jeanne Bonaparte
(1807-1829)
Paul Bonaparte
(1809-1827)
Marie-Alexandrine Bonaparte
(1818-1874)
Constance Bonaparte
(1823-1876)
Lucien's physical appearance
: "He had a well shaped head, and well-moulded features. Though much taller than his brother Napoleon, his physique was poor and he had a spinal irregularity that caused him to stoop slightly. His hands were unusually large as were his feet and he gesticulated a great deal while talking. With women he made every effort to be at his best and when he grew excited he became somewhat feline." (
Juliette Recamier
: 25)
Lucien's spouse & children
: "The village of Saint Maximin-Marathon is not a magnificent residence. Lucien-Brutus soon found this out, and ennui would have overpowered him had not love come to his aid. Lucien-Brutus became enamoured, desperately enamoured, of Mademoiselle Christine Boyer, whose father was at the head of the little public-house of saint Marathon. Lucien was then young, about twenty-three; he was in love for the first time, and he loved an angel of gentleness, virtue, and candour. Christine saw herself adored by an ardent, hot-headed young man, employing against her rustic simplicity all the stratagems, all the resources, with which his short experience of the world had made him acquainted, and which his love taught him to use skillfully; and Christine was not proof against such an attack. She loved as she was loved, but she forgot her duty, and Lucien was obliged to marry her in order to be happy; he loved her too fondly to think of all the unpleasant feelings which this alliance was likely to excite in his own family. In fact, no sooner was General Bonaparte apprised of this marriage than he declared that he would never recognize the wife, and never meet his brother again. A post was then given to Lucien in Germany, and the young couple came to Paris for a short time." (
The Home and Court Life of the Emperor Napoleon and His Family, Volume 1
: 179-180)
Lucien Bonaparte
1st Principi di Canino
"In the end Lucien did not actually leave, because he was taken up with writing his memoirs and having them simultaneously translated into English by a lady named Anna Maria Gordon, who for many years had been the nanny of his two youngest daughters. . . ." (Napoleon and the Rebel: 261)
Juliette Bernard
Madame Recamier
" . . . Lucien Bonaparte met her at this period at M. Sapey's, at Bagatelle, and was struck with her beauty. He asked permission to visit her at Clichy, and it was granted. The consequence may easily be foreseen. Lucien --- at that time only twenty-four years of age ---became, although married, passionately enamoured of the greatest beauty of her time, and did not scruple to declare his passion. Madame Recamier appealed to her husband, and requested that Lucien be shown the door. M. Recamier observed thereupon that to break openly with the brother of General Bonaparte might compromise him and ruin his bank. . . Madame Recamier did not like Lucien, so she acceded to the arrangement, and would sometimes laugh at this anguish, while at others she was terrified at his impetuosity. This stormy kind of relationship lasted for a year, when Lucien, weary with the ineffectual pursuit, gave it up. . . ."
(
The Eclectic Magazine of Foreign Literature, Science and Art, Volume 49
: 252)
About this time Lucien Bonaparte aspired to become Juliette Recamier's lover. Though he was married already his wife was delicate, and went little in society. This combination of circumstances gave Lucien freedom to flirt with all the handsome women he met. . . Lucien was devoted to Madame Recamier, so much so in fact that he was ever ready to dance attendance on her slightest whim. She is said to have dined with him several times at the more fashionable restaurants in Paris, and even welcomed him as she did many other famous men, to a spirit of social eclat and coquetry. At this time Lucien was but twenty-five years of age, and was Secretary of the Interior."
(
Juliette Racamier
: 25)
"The official world set the fashion of festivity, and the winter was tolerably gay. Especially successful were the balls of Lucien Bonaparte, who occupied the sumptuous Brissac mansion, as Minister of the Interior. He was then in love with the fashionable beauty, Madame Recamier, the most charming in Paris. Since her first name was Juliette, he expressed his devotion under the pseudonym of Romeo. . . It seems that Madame Recamier did not let herself be moved by Lucien, although she was much flattered by his attentions. Her husband, moreover, advised her to be gentler with the brother of the First Consul. So Madame Recamier was one of the principal ornaments of the balls given by the Minister of the Interior. The author of the delightful book, 'Recollections of Madame Recamier,' tells us that she produced a very great effect at a dinner, followed by a concert, which Lucien gave to his brother, General Bonaparte. 'She was dressed in white satin, and wore a necklace and bracelets of pearls, as if she took a certain satisfaction in covering herself with things conspicuous for their whiteness, in order to efface them by the beauty of her complexion.' Fouche, the member of the Convention, afterwards the Duke of Otranto, came behind the chair in which she sat, and said to her in a low tone, 'The First Consul finds you charming.'" (
The Wife of the First Consul
: 53)
" Months went by fairly uneventfully, until the next spring. Lucien had started writing his memoirs as well as a pamphlet on the One-Hundred Days. . . The force inactivity was weighing on the Bonaparte brothers, who felt increasingly powerless and nervous. A woman provoked even more tension between them: Madame Sari, an attractive though manipulative Creole woman, was rumoured to be having an affair with Lucien. Her husband, a Corsican man named Mathieu Sari, who was in Joseph's service challenged Lucien to a duel. The business was settled, yet again, by Joseph's intervention. After the Saris' departure from London on May 1, 1835, Lucien announced his intention to leave for Italy, where Alexandrine was ill. . . ." (
Napoleon and the Rebel: A Story of Brotherhood, Passion, and Power
: 261)
a.k.a. Mademoiselle Georges
.
"This conversation between the brothers was not very edifying, but hten neither was their conduct. Mademoiselle Georges, before taking the Consul's fancy had caught this rascal Lucien's eye. He had been anxious to make her his mistress and with the end in view had entered upon somewhat discreditable negotiations with Mademoiselle Raucourt, under whom she studied, with the object of getting her to plead his cause with the pretty debutante. He had even given her, as an earnest of his intentions, a recherche supper and a magnificent present. It is further recorded that after the supper in question a contract drawn up in regular form had been duly signed, whereby Mademoiselle Raucourt undertook to
Lucien therefore had ample knowledge of his subject when he told Napoleon that Mademoiselle Georges was one of the most beautiful women in Europe. 'You might,' Napoleon retorted, 'have said, I thing without much risk of error,
the
most beautiful woman.' . . . ." (
The Love Affairs of Napoleon
: 126-127)
a.k.a. Maria Anna Ferdinanda von Waldstein, Maria Waldstein
Daughter of
:
Emanuel Filibert Graf von Waldstein-Wartemberg and
Maria Anna Theresia Prinzessin von und Liechtenstein
Wife of
:
Jose Joaquin de Silva Bazan y Sarmiento
(1734-1802),
9th marques de Santa Cruz de Mudela,
10th marques del Viso,
mar 1784, as his 2nd wife)
" . . . When Lucien Bonaparte arrived in Madrid as French ambassador in 1800, he took over part of the Santa Cruz palace, and he and Maria Anna (his senior by 12 years) became lovers."
(
Neil Jeffares
)
"Madame Baciocchi once passed a summer at Lucien's country house at Plessis-Chamant to act as hostess for her brother-in-law in company with the Marquise de Santa Cruz. Madame de Santa-Cruz was a young woman whom Lucien had met while Ambassador at Madrid, and whom he had brought back with him from Spain as a sort of lady companion to while away the dullness of the long journey...." (
Trowbridge, 1908, p. 39
)
Maria von Waldstein's p
ersonal & family background
: "Mariana Waldstein (1763-1808), Marquesa de Santa Cruz, a native Austrian, was one of the most prominent women in the late eighteenth-century Spain. By her marriage she was the Duchess d'Alba's aunt and an intimate of Lucien Bonaparte." (
WGA
)
Marie Bonaparte
a.k.a. Princess George of Greece & Denmark, A.E. Narjani (pseudonym)
Princess Marie's love life

.
"
Princess Marie's love life was colourful to say the least. Between 1913 and 1916 she had an affair with French Prime Minister Aristide Briand. She was great study in psychology and psychiatry and counted Sigmund Freud as her mentor. Prince George disapproved but Princess Marie declined to give up her interest in psychiatry. The couple had two children, Prince Petros and Princess Evgenia. Princess Evgenia married His Serene Highness Prince Dominic Radziwill who she divorced in 1948. He was succeeded by Prince Raymundo della Torre e Tasso the Duke of Castel. They divorced in 1965.
" (Henry Poole)
Princesse Marie Bonaparte's personal & family background
.
M
arie was the daughter of Prince Roland Bonaparte and Marie-Felix Blanc, the daughter f Francois Blanc, the principal real estate developer of Monaco and co-owner of the casinos in Monte Carlo and Homburg. Marie-Felix had a fortune of almost 14 million francs. (
Scandalous Woman
)
"
Marie Bonaparte's paternal grandmother, Princess Pierre Bonaparte, lost all her money at the time of the Commune in 1871. To repair the family fortunes she arranged that her son, Prince Roland, should marry an heiress, Marie-Felix Blanc, whose father owned most of Monaco, including 97 percent of the Casino of Monte Carlo. Thus Marie Bonaparte, the only child of their union, became heiress to enormous wealth. In all other respects she was a most unfortunate child. Within a month of her birth in July 1882, her mother was dead of an embolism. Her father was a scholarly scientific amateur who became an expert on glaciers, but he was remote, preoccupied with study and saw little of his daughter. The household in which Marie Bonaparte was brought up by nurses and governesses was dominated by her paternal grandmother. This formidable woman considered that gregariousness pertained only to the lower orders, and so the young heiress was brought up without companions, isolated and overprotected. It is not surprising that she developed night terrors, morbid fears of illness and various obsessional anxieties.
" (NYT)
"
Prince Roland's father, Prince Pierre Bonaparte, also married a woman who was lower-class and barely literate, but not until after she had given birth to Prince Roland and his sister Princess Jeanne. The couple were not married with Imperial consent by Napoleon III, and he refused to recognize the marriage or the legitimacy of the two children. It wasn't until the Third Republic that their marriage was recognized and his wife entitled to bear the title of Princess. Still the Princess was not recognized by Parisian society which galled her for the rest of her life. Princess Pierre arranged her son Roland's marriage to the daughter of Francois Blanc, who was the principal real-estate developer of Monaco, also co-owning the Casino in Monte Carlo as well as one in Homburg (Pierre's brother Prince Charles-Lucien Bonaparte broke the bank at Homburg winning 180,000 francs, the first person to do so.) Marie-Felix had a fortune of almost 14 million francs. She was also suffering from tuberculosis which was kept from her. The race was on to get Marie-Felix pregnant before she died. On July 2nd 1882, she gave birth to a daughter Princess Marie Bonaparte known to her family as Mimi. A month later, but not before making out a will in her husband's favor, Marie-Felix died in his arms of an embolism.
" (Scandalous Woman)
Marie Bonaparte's physical appearance & personal qualities
.
"Princess Marie Bonaparte is twenty-five years old, tall, slender, graceful, with a mass of dark brown hair and a pair of big brown eyes that can by turns sparkle with merriment and swim in languorous tenderness. She has been courted by many men, but was fancy free until this blond Hercules came from Greece, wooing her against the wish of his family. He was so handsome, so big, his blue eyes were so full of tenderness and honesty that the dainty French Princess gave him her heart." (
Esoteric Curiosa
)
[Ref1:Scandalous Women] [Ref2:Alexander Palace]
"
Isolation is the breeding ground of fantasy and encourages susceptibility to romantic love. In adolescence Marie Bonaparte developed an unfortunate infatuation with a Corsican secretary of her father's who later blackmailed her successfully by threatening to publish her letters to him. Just before she was 17, her father launched her social life by giving a ball for her, but she was soon neurotically disabled by a variety of psychosomatic symptoms and became convinced that she would die prematurely like her mother. She became fascinated by the stories of Edgar Allan Poe, who later was the object of her psychoanalytic scrutiny. In 1907, when she was 25, her father chose Prince George of Greece as a suitable husband for her.

She fell in love with him and had two children by him; the marriage lasted until Prince George's death in 1957, but it was a failure emotionally. George's affections were directed toward his uncle Waldemar rather than toward women

, and on their wedding night, Marie Bonaparte recalled, he apologized, saying, ''I hate it as much as you do. But we must do it if we want children.'' She was driven by her unsatisfied sexual needs to take a variety of lovers, of whom the most famous was Aristide Briand, who was 11 times Premier of France.
"
(
NYT
)
Her lovers were
:
Lover in 1909

.
Danish prince & French Foreign legion officer
Her husband's first cousin
"
The marriage was distinctly odd from the beginning. The young couple visited uncle Valdemar at Bernsdorff and it became clear to Princess Marie that the bond between uncle and nephew was unnaturally close. They would spend days and nights together and when it came time for Prince George and Princess Marie to depart the former would weep inconsolably and Prince Valdemar would take to his sick bed.

It was rumoured that Princess Marie also slept with Prince Valdemar and with his eldest son Prince Age

.
" (Henry Poole)
2) Aristide Briand
(1862-1932)
Austrian psychoanalyst
"
The children of psychoanalysts often find themselves seeking, or being pushed into undertaking, analysis, and Marie Bonaparte's children were no exception.

Her son, Peter, however, chose for his analyst Rudolph Loewenstein, whom he knew to be one of his mother's lovers, which is stretching unorthodoxy to the limit

. Although psychoanalysis did not cure Marie Bonaparte, it certainly liberated her from the stifling conventions in which she was brought up. In 1932 she wrote to Freud seeking his guidance. She and her son had acknowledged to each other a mutual temptation to incest. Freud advised against acting out their desires.
"
(
NYT
)
4) Sigmund Freud
.
"
But as she soon discovered, no lover could overcome her frigidity. Her search for a cure led her to become friendly with a French psychiatrist, Rene Laforgue. He referred her to Freud, remarking that she had ''a marked virility complex.'' In 1925, when Marie Bonaparte consulted him, Freud was 69 and already afflicted with the cancer that eventually killed him.

They took to each other immediately. Freud, who was never good at following his own injunctions about how psychoanalysts should conduct themselves, told her about his illness and his financial difficulties and was delighted when she told him that she loved him. She soon replaced Lou Andreas-Salome in Freud's affections and became so much his favorite analysand that he gave her two hours a day of his time

.
"
(
NYT
)
Mathilde's physical appearance & personal qualitie

s.
" . . . She was probably the most cultured, and in her sphere the most talented, of all the Bonapartes. Of fine physique, very good looking when young, she always remained a woman of dignified presence, in spite of the corpulent figure and the pendent cheeks of advancing years. she cultivated art in several of its branches, her ability as a painter was real, and, from the establishment of the Empire until her death in January, 1904, she surrounded herself with artists and literary men, gathering at her residence---first in the Rue de Courcelles, and later in the Rue de Berri, as well as at St. Gratien, in the northern environs of Paris---a large company of talented and eminent people, many of whom she reconciled to the imperial regime, while others were at least induced to tolerate it by the influence of her personality, which attracted, pacified, and disarmed. . . ." (
The Court of the Tuileries, 1852-1870
: 233-234)
"She has sovereign beauty and the beauty of sovereigns, strength and sweetness, line and expression, style and charm, a kind heart for all the world, and banter for the fools. Here is the face of Napoleon, from the slope of the forehead to the despotic chin; fine eyes, both proud and sweet; a nose which is Italian, with mobile nostrils, rather than Greek with the immobility of marble; a charming mouth, showing kindliness in the upper lip, imperiousness in the lower. That art which she worships has given a supreme touch of enlightenment to this countenance, in which the prevailing characteristic is an intelligence that is lofty, masterful, impulsive. And how proud is that carriage, which laways brings to mind the saying of a certain highly placed lady of middle-class extraction: 'You can easily see that she was born to it.'" (
The Princess Mathilde Bonaparte
: 16)
"Better known, probably, is the tribute of Sainte-Beuve, generally called 'The Portrait of the Princess.' This was published first in 1862, to accompany a photograph of her in a series of portraits and biographies of the Bonaparte family, and was included later in the eleventh volume of the
Causeries du Lundi
. She has a high and noble forehead, made for the diadem. Her light golden hair leaves uncovered on each side of her broad, pure temples, and sweeps round to join again in wavy masses on the full, finely shaped neck. There is no lack of decision in the firmly chiselled features. A chance mole or two shows that Nature had no intention that the classic purity of line which is hers should be confused with any other's. The well-set eyes, impressive rather than large, of a clear brown huem gleam with the affection or the thought of the moment, and are not apt to feign or conceal. Their glance is quick and piercing; now and then they turn full toward you, not so much to fathom your thought as to convey their own. The whole physiognomy indicates nobility, dignity, and, as soon as it lights up, the union of grace and power, the gladness which springs from a healthy nature, frankness, and goodness, at times also ardent spirit. In a moment of just anger, the cheek flames. The admirably poised head rises from a dazzling and magnificent bust, and is joined to shoulders of statuesque smoothness and whiteness. The hands have no equal in the world---the hands of the Bonaparte family. The body is of medium stature, but is made to look tall by its suppleness and harmony of proportion. The carriage is instinct with race, and gives an undefinable impression of sovereignty and full-blooded womanhood.'" (
The Princess Mathilde Bonaparte
: 16-17)
The blooming of a princess in Florence
: "It was there [Florence] that Princess Mathilde grew into a beautiful and, thanks to the efforts of her mother, intelligent and educated young woman. One of her father's guests write, 'she is entirely French, heart and soul,' with dark hair and the strong features of the Bonapartes. But the gaiety and high life at Palazzo Orlandini ended when Catherine died of dropsy in 1835. Always living far beyond his means and not without his wife's annuity, Jerome was desperately short of money. He sent his offspring to relatives in Germany and moved into a villa at Quarto under Monte Morello. After he father failed to engineer a match between her and her cousin Louis-Napoleon, heir to the imperial throne, Mathilde returned to live with him in Florence." (
The Florentine
)
Mathilde's various suitors
: " . . . Mathilde had been sought by various suitors, to whom her beauty and name were a sufficient attraction to render them indifferent to the absence of a dowry. We need not pay too much attention to the statement in Marshal Canrobert's memoirs that she was asked in marriage by numerous princes, heirs to divers thrones, including the Duke of Orleans and the Tsarevich---although, as we shall hear, she herself believed that the Tsar Nicholas desired her as a daughter-in-law. Jerome, however, certainly would not have refused her to any prince who could give her, and himself at the same time, an assured position. The suitors of whose advances there can be no doubt are less illustrious in station. Prominent among these was Count Aguado, son of the Marquis of that name, head of an immensely rich banking family of Spanish origin. With his hand Mathilde might have had ten million francs, it is said. But hse preferred to wiat, and in was not till after her twentieth birthday that she listened to an offer. Whether her wedding proceeded or followed her father's is uncertain, owing to the fact that his was secret, and the exact date of it has not been discovered." (
The Princess Mathilde Bonaparte
: 28-29)
The Count Aguado

: "Several French writers have pointed out how curious it is that, while Napoleon III was engaged to the Princess Mathilde and afterwards married the Empress Eugenie, Aguado courted them both. When the Montijos, mother and daughter, came to Paris to lieve, they were on very friendly terms with the Aguado family there. The Count made no disguise of his feelings, and was found by a friend weeping over the Prince-President's wooing of Eugenie."
(
The Princess Mathilde Bonaparte
: 29)
Princess Mathilde chooses to marry Anatole, Prince di San Donato
: "The Princess Mathilde is said to have been attracted to Demidoff mainly because he was a Russian---in which case she was doomed to pay dearly for her gratitude towards the Tsar Alexander. His looks were not greatly in his favour, although those who describe him as ugly seem to have in mind his appearance in premature old age and to forget that when a young man, visiting Paris soon after his marriage, he was considered a striking figure in his brilliant Circassian uniform. Of the badness of his manners we shall soon hear. We cannot help suspecting that it was his income which chiefly commended the match to the young Princess, coupled with her desire to escape from Quarto. As Demidoff's wife she would be able to enter that France, which, though counted as a Frenchwoman she had never yet seen. . . ." (
The Princess Mathilde Bonaparte
: 32)
Russian industrialist, diplomat and arts patron.
a.k.a. Anatoly Nikolaievich Demidov, Prince Anatole Demidov, Prince Anatoly Demidoff
.
Son of
:
Count Nikolai Nikitich Demidov
&
Elisabeta Alexandrovna Stroganova.
The young man who caught her girlish fancy
: "Mathilde, who mingled freely in Florentine society, was soon attracted by a foreigner, a strikingly handsome personality in his Circassian uniform. The young man who caught her girlish fancy was Count Anatole Demidoff, the Tuscan Prince di San Donato. To declare herself in his favour was to take a very bold step. She must have known that in doing so she was thwarting the secret intention of the Emperor of Russia. It is clear that the voice of passion must have been strong within her, since she might have looked far higher. In after years the Princess found pleasure in recalling this period of her youth, and in the company of a few intimate friends she often drew a comparison between what she was and might have been. Although the Tsar always affected to regard Napoleon III as a parvenu, and underneath the civilities of diplomacy to treat him as inferior to the kings and princes of older dynasties, it was his cherished plan to marry his son Alexander to a Bonaparte. And now she, on whom the honour of imperial choice had fallen, eluded him to follow an impulse which one day she would surely regret." (
Women of the Second Empire:
88)
Prince Demidov had a handsome figure, noble rank and considerable wealth
: "Anatole Demidoff, Prince di San Donato, in Tuscany, had more than his handsome figure and his rank to recommend him; he possessed considerable wealth. His father had been Russian Ambassador at Rome and Florence, and what was worth far more, he owned mines in the Urals---an inexhaustible source of revenue---which enabled him to surround himself with the luxury of a satrap. Count Demidoff's house was the rendezvous of foreigners. He liked to display the evidences of his wealth to a crown of spectators; it was the man's weakness to wish to dazzle society with his ponderous magnificence. His drawing-rooms were heavily gilded, filled with pictures, bronzes, and malachite. On great occasions very valuable jewels used to be exhibited in glass cases, and as he was not over-fastidious in the choice of his guests, two servants were always placed on guard to check the temptations of indiscreet amateurs. He kept in his pay a French theatrical company, whom he had originally engaged during his residence in Rome, to perform pieces from the 'Gymnase' in his residence, the Ruspoli palace. Ill, aged, and crippled, he never ceased giving entertainments, and the denser the noisy, pushing crowd which filled his rooms, the better was he pleased. His peculiarities were notorious, as was also his Asiatic ostentation---devoid alike of taste and moderation. His benevolence, however, was no less renowned; some of his generous deeds were of the most useful and enlightened description. He founded in Florence, a valuable picture gallery, a school and a richly endowed asylum. At his death public opinion decided that the services Count 'Nicolo' had rendered to the city of the Medicis entitled him to a statue, which was accordingly erected in one of the public squares. Anatole Demidoff, on whom the reigning Grand Duke had conferred the title of Prince of San Donato (from the name of his Tuscan estates), continued and even extended still further this large and luxurious way of life, amid splendour, philanthropy, and artistic interests. He showed, however, more discernment and greater culture. He had a certain amount of literary talent. We have from his pen some impressions of his travels and a series of articles, in the form of letters, on the Russian Empire, which were published in the
Debats
. He earned the reputation of a Maecenas. By weeding out and adding to the collections bequeathed to him he greatly raised their value. . . ." (
Women of the Second Empire
: 88)
A princely rank, upon marriage, fit for a Bonaparte princess

: "By the way, Aurora's son inherited his uncle's title Prince of San Donato (as per his Villa San Donato in Florence). The title was created for Anatoly Demidov by Leopold II, Grand Duke of Tuscany, so that Mathilde Bonaparte, the daughter of Napoléon's brother Jérôme, would not lose her title of princess when marrying him. If anyone of you has visited Portoferraio on Elba, Anatoly was the same Demidov who built the museum below Napoléon's private house Villa di San Martino, the ghastly museum that completely ruins the site's historical and artistic value." (
Amateurs Venture on Life
)
A wealthy Bonaparte princess
: " . . . It is a fact that financially her position was enviable. In 1860 her income---already very ample---was increased by the award of an annual subsidy of 300,000 francs, which, added to the 200,000 of her dowry that had been returned to , and the income she drew yearly from Demidoff, made up her total revenues to 700,000 francs---a handsome sum with which to maintain the position of a princess!. . . These special grants ended with the Empire which awarded them. Princess Mathilde's fortune during the last years of her life consisted almost exclusively of the Demidoff allowance, an annuity of 200,000 francs (not 200,00o roubles), which she spent lavishly in keeping up her position, indulging her hospitable tastes, and in private charities. Beyond her collections of pictures, jewels, and other valuable objects, she left no capital worth speaking of." (
Women of the Second Empire
: 99-100)
Marriage dowry?

:
"As was expected the marriage of Mathilde and Demidoff was unhappy from the very outset. There were scenes and disputes resulting from the gross misbehaviour of her husband, and from the stinging reproaches of the high-spirited wife. It was after one of these quarrels that Demidoff presented to the Princess as a peace offering a magnificent gold casket in which there were some valuable jewels. While they were admiring it together he pointed out to her a spring which opened a secret drawer. In in she found the memorandum of her father's immense debt to her husband, and the former's letter accepting Demidoff's offer of marriage as a cancellation of the debt." (
A Lady of Trance
@ Otago Witness)
Prince Demidov's peculiarities

: " . . . But he had not inherited the tastes and wealth of his father without some of his peculiarities. He was abrupt in action, capricious in mood, and despotic in temper. He was especially subject to fits of violent jealousy, though the license he permitted himself in the matter of conjugal fidelity hardly warranted his attitude. He was ardent in the pursuit of pleasure, and lived at a reckless pace. With his natural gifts, his noble blood, and his elegance, it might have been supposed that he yielded to some compelling passions, inspired even in the frivolous circles which were the scene of his excesses. But this was not the case; it was known that the demi-mondaines to whom he sacrificed one of the handsomest princesses in Europe cost him exceedingly dear. . . ."
(
Women of the Second Empire
: 90)
Marital breakdown, separation and settlement
: ". . . One day, however, he chose to consider that his exclusive rights had been infringed, and showed his displeasure in a manner so truly barbaric as to render a separation inevitable. The pair had just returned from Paris, where the Count and Countess Demidoff occupied a magnificent house in the Rue St. Dominique. On the occasion of their return to Florence the reception-rooms of the San Donato palace were the scene of a brilliant gathering. The dancers were moving in a maze of light and music. Suddenly, in the midst of this animated scene, before some hundreds of spectators who watched in dumb amazement, the Prince, in a fit of savage and unreasonable jealousy, walked straight up to his young wife and slapped her on both cheeks. Beneath this public insult she remained speechless; then quickly regaining her self-possession, she withdrew to her own apartments. In the morning, without seeing her husband again, she made her way to St. Petersburg, confident of finding protection and justice with her maternal uncle, Nicholas I. The Emperor was the more inclined to accord her both, because he was attached to her, whereas, on the contrary, he had no liking whatsoever for Prince Demidoff." (
Women of the Second Empire
: 90-91)
The imperial deed of separation
: "A Russian subject was in question, most of whose property was in Russia. Nicholas could therefore speak and act with authority, for he held in his hand a guarantee for the man's submission. He (Nicholas I) undertook himself to make a settlement of the property, which should secure for his niece, the Princess Mathilde, a handsome independence. He authorized the deed of separation, ordered Demidoff to pay her 8,000 pounds a year, and forbade him to occupy the same place of residence as this wife. The Prince di San Donato, headstrong as he was, found himself compelled for once to yield to a stronger will than his own. . . ." (Women of the Second Empire: 91)
Who was really responsible for marital rupture beyond repair?
: " . . . In the private history of Princess Mathilde, Anatole Demidoff has always borne the entire responsibility for the rupture. All the gifts and advantages of his brilliant education were neutralized by his violent temper and unbridled dissipation. Yet he was alone to blame? Were his jealous rages purely the outcome of his imagination? It is but just to plead the extenuating circumstances
of the case. Mathilde was handsome, with the kind of beauty that calls forth homage and devotion; in Florence she was surrounded by admirers, some of whom, such as the Baron de Poilly, Captain Vivien, and Nieuwerkerke, were extremely pressing. Any man in Demidoff's circumstances might have felt a breath of alarm. In all justice he might have been treated a little less severely. He certainly contributed handsomely to the prince stae kept up by the wife he had wedded, whom he was forbidden ever again to see. It was not till long afterwards, when Demidoff, worn out by pleasure, was merely a living wreck, that this injunction was withdrawn. 'What does it matter now?' said Alexander II. He had tried to open up a way of reconciliation by touching the most sensitive chord in Mathilde's heart---her cult of the past---by parading the warmth of his Bonapartist convictions in the purchase of the villa in Elba where Napoleon had spent his exile, and in the collection of relics at extravagant prices. In vain. The blow his hand had dealt still burnt her cheek, and the remembrance was like a wound in the proud heart of Mathilde." (
Women of the Second Empire
: 91-92)
"By the time the Demidoffs received the Tsar's permission to leave Russia, their marriage was already in trouble. First they attempted to maintain appearances in public. Both were guilty of adultery, but strangely enough, Mathilde was not prepared to bear the huge expenses of Anatole's infidelities, rather than the fact of their existence. Once Mathilde stooped to insulting Anatole's mistress in public at a fancy-dress ball. Anatole, in his turn, did not find anything better to than slap his wife across her face. After that he became 'a monster', 'a brutal savage' and so on in the eyes of the refined French public. In September 1846 Mathilde, determined to separate from Anatole, fled from his hotel with her lover, the Comte de Nieuwerkerke, taking back her family jewelry, which her father had sold to Anatole, and corresponding moral corresponding moral compensation from Anatole's family jewelry. In this moment of crisis Mathilde turned for help to her cousin, Tsar Nicholas I. She sent him correspondence explaining the basis of her momentous decision. Tsar Nicholas was only glad to oblige. Unfortunately, Anatole and his behavior were 'blackened' and most likely beyond all recognition in the correspondence. Anatole pleaded for Mathilde to return and, in co-ordination with his father-in-law offered her lodging at Jerome's residence. His personal letters to Mathilde were short on tact and understanding. Anatole lambasted her decision to move our of her lover's residence and into a religious convent while she awaited the Czar's instruction as 'the most ridiculous combination of decisions of our tines. . . ." (
Anatole and Mathilde: Story of their Marriage
@abcgallery.com)
French sculptor & civil servant
"At the same time she was a Bonaparte, the daughter of old Jerome, the hero of a hundred gallantries; and after brushing mere scandals aside, it must be said that her name was a associated with those of two men of her time, first Alfred Emilien, Count de Nieuwerkerke, and secondly Claudius Popelin. Nieuwerkerke, Superintendent of Fine Arts under the Empire, a tall, handsome, bearded man, was of Dutch origin, but was born in Paris in 1811. He married a Mlle. de Montessuy (who predeceased him), and survived until 1892, when he died at Lucca. During the Empire his relations with Princess Mathilde were matter (sic) of common notoriety. His official functions frequently exposed him to attack, but she upheld him against all comers, and at one time had a very serious dispute respecting him with her brother, Prince Napoleon, who, in order to annoy her, had omitted Nieuwerkerke's name from some artistic commission which he had been selected to appoint." (The Court of the Tuileries, 1852-1870: 236)
"Princesse Mathilde's is illustrative of how a 'salon' in the best-understood sense of the word could operate. The Princess, niece of Napoleon I and separated from her Russian husband Count Anatole Demidoff, whose fortune from the mines of the Urals bolstered her own, held both literary dinners and Sunday evening salons from 1851. She played no small role in promoting the cause of her cousin, the future Napoleon III, after he returned from exile in 1848.The Princess was nicknamed 'Notre Dame des Arts' by Saint-Beuve; her niece Princesse Caroline Murat, described her salon as 'a court in itself' which 'had no equal in the nineteenth century for length of ascendancy' and was 'the home and centre of Parisian intellect'. During the Second Empire her sculptor lover Comte Alfred-Emilien de Nieuwerkerke became director of the Ecole des Beaux-Arts through her influence, and her salon became the centre of an informal network of patronage. She manipulated elections to the Academie francaise and helped Saint-Saens to avoid military service. According to the violinist Eugene Sauzay, her 'music salon' consisted of four rooms, of which two had pianos, a third was reserved for string chamber music, and the fourth a chamber organ; when serious performances were given, she imposed silence on her guests, something rarely experienced in public concerts. after 1870, the Princess's political influence diminished, her imperial pension stopped and mansion in the rue de Courcelles expropriated, but she maintained her salon in barely less grand surroundings in the rue de Berry. She still attracted composers including Bizet, Gounod and Vicomtesse de Grandval, and writers such as Coppee, Flaubert, Edmond de Goncourt, Hugo, Renan, Taine and, in the early 1890s, Barres and the young Proust, in whose
A l'ombre des jeunes filles en fleurs
she appears in person." (
French Music Since Berlioz
: 102-103)
"Back in Paris [after her separation from her husband, Prince Anatole Demidov], she sought solace in the arms of her own lover, the French sculptor, Count Emilien de Nieuwerkerke, whom she had met a year earlier at Villa San Donato, her palatial marital home in Florence. She also set about helping her cousin Louis-Napoleon, in his bid to be elected president of France, putting her jewellery up as a collateral to finance his successful campaign. following a coup d'etat in December 1851, Louis-Napoleon Bonaparte became Napoleon III, ruler of the Second French Empire, making Mathilde, after Eugene, the emperor's wife, the second most important woman in France. A patron of the arts and literature, Mathilde soon established a glittering saon in Pris, frequented by, among others, Marcel Proust, Gustave Flaubert and Jean-Auguste Ingres." (
The Florentine
)
French lawyer & politician.
a.k.a. Charles-Joseph-Barthelemy Giraud.
3) Claudius Popelin
(1825-1892)
French painter, engraver & enameller
"Later, Claudius Popelin, the painter, engraver, and enameller, took Nieuwerkerke's place beside the Princess. The son of a Paris merchant, and born in 1825, Popelin was a widower at the time, having lost his wife in 1869. Ten years later the Almanach de Gotha stated the Princess Mathilde and M. Paupelin (sic) had been married in England in December, 1871. It is certain that the Princess was in England at the date mentioned, but subsequent tot he statement of the Almanach de Gotha a paragraph signed A. Renal was published in Le Figaro declaring, on the Princess's behalf, that the assertions respecting the marriage was (sic) untrue. Nevertheless, down to the time of Popelin's death in 1892, the Princess's intimates were certainly under the impression that he was at least morganatically her husband. On the whole, whatever lapses there may have been in the Princess Mathilde's life, we feel that they may be more readily condoned than those of any other member of the imperial family. . . ." (The Court of the Tuileries, 1852-1870: 236-237)
Princesse Mathilde's husband's lovers were

:
"It is strange indeed that the death of Ernestine Duverger should have remained so entirely unnoticed by the French foreign press. For, the daughter of a washerwoman, she achieved fame at the age of 15 as the heroine of a most sensational escapade in connection with the late Duke of Orleans, eldest son of King Louis Philippe, and then heir to the throne of France, and not long afterwards became the final cause of the separation of Princess Mathilde Bonaparte from her Russian husband, Anatole Demidoff, Prince of San Donato, who, when he died at Paris in 1870, left untold wealth to Ernestine, the latter subsequently developing into an eccentric and miserly old woman, whose sole enjoyment used to be to empty the contents of her many safes on the carpet, and then to plunge her bare her arms among the jewels of every description which she possessed in untold quantities. Yet Princess Mathilde felt no grudge against Ernestine Duverger, and perhaps, on the whole, was rather grateful to her having furnished her with a cause of separation from Demidoff." (
A Lady of Trance
@ Otago Witness)
2) Fanny de La Rochefoucauld
(1807-1848)
Daughter of
:
Francois XIII,
8th Duc de la Rochefoucauld
&
Marie-Francoise de Tott
Wife of
:
Armand Alexis,
Comte de Montault
mar 1828.
French courtesan & actress.
a.k.a. born Julienne-Josephine Gauvain, Bella Juliette, Mademoiselle Drouet
.
Daughter of
:
Julien Gauvain,
French tailor
& Marie Marchandet.
"Juliette Drouet was twenty-six. She had had many lovers, by one of whom, the sculptor Charles Pradier, she had had a daughter. Her chief protector, at the opening of 1833, was the Russian prince Anatole Demidoff, who supported her in a luxury appropriate to her astonishing beauty. Although she was an indifferent actress, her looks had already made her celebrated -- a figure whose classical proportions had inspired the sculptures of her lover Pradier, an oval face whose delicate features and gentle eyes showed no trace of the hardness that might be expected in one whose career had been that of a courtesan. And in fact, launched into the demi-monde almost by accident, after a convent upbringing, Juliette had never acquired the cynicism appropriate to her role. 'It seems to me,' she had written to a lover, 'that my soul has its desires as well as my body, and a thousand times more ardent. . . I would leave you, I would abandon you, the world and life itself, if I could find a man whose soul would caress my soul, as you caress and love my body.'" (
The Young Romantics: Writers & Liaisons, Paris 1827-37
: 92)
Polish countess, pianist & patron of the arts.
a.k.a. Maria Nesselrode, Maria Kalergis-Muchanow
.
a.k.a.
Marie-Valentine-Josephine de Sainte-Aldegonde
.
Daughter of
:
Comte Charles-Camille de Saint-Aldegonde
& Adelaide-Josephine de Bourlon de Chavagne.
Wife of
:
Alexandre-Edmond de Talleyrand-Perigord,
3rd Duc de Dino,
mar 1839.
" . . . As it happened, she made a most unhappy marriage. Born at Trieste in
May, 1820, she was wedded at Florence, on November 1, 1840, to Prince Anatole Nicolaievich Demidoff, of San Donato, who was her senior by seven years. One is reminded of the irony of life on reading the effusive letters by which that young Russian millionaire announced the consent of the Princess's father to other members of the Bonaparte family. His dearest wish was about to be gratified, his happiness knew no bounds. Five years alter he and his wife were separated. He had treated her with great cruelty, and it was the Emperor Nicholas who insisted on the separation. According to one account, the Czar discovered the situation during a stay he made at Florence---probably after his visit to London in 1844. In any case the separation was effected by his authority, and the Prince Demidoff, whose income was then about 90,000 pounds a year, was ordered to pay his wife 20,000 pounds annually, and to abstain from going at any time to any place within a hundred miles
of where she might be living. Demidoff was compelled to obey, for fear lest all his property in Russia should be confiscated. It is thus an autocrat is able to enforce his decision, which, in the case in point, was a just one.
Prince Demidoff survived until May, 1870, and for a good many years Princess Mathilde enjoyed the jointure fixed by the Czar, in addition to her civil-list allowance. this enabled her to live in dignity, entertain freely, assist many struggling artists and writers, and do no little good unostentatiously in various ways.
She was long the providence of the village of St. Gratien, where she had her country seat." (
The Court of the Tuileries, 1852-1870
: 235-236)
Princess Mathilde Bonaparte's Lifestyle.
Veranda of Princesse Mathilde Bonaparte's
Hotel @ Rue de Courcelles
@ Pinterest
Princesse Mathilde's collection of
pictures, jewels & other valuable objects
.
Diamond Rose Brooch
@Pinterest
" . . . Created for Napoleon's niece by Theodore Fester in 1855, the gold-and-silver setting rose has 250 carats of diamonds. Mathilde ran one of Paris' most distinguished literary and artistic salons. When she died in 1804, the Rose was auctioned and sold by Cartier to Mrs. Cornelius Vanderbilt III, who wore it at the waist or bodice for portraits and other formal occasions in her role as 'Queen of Society.'" (Pinterest)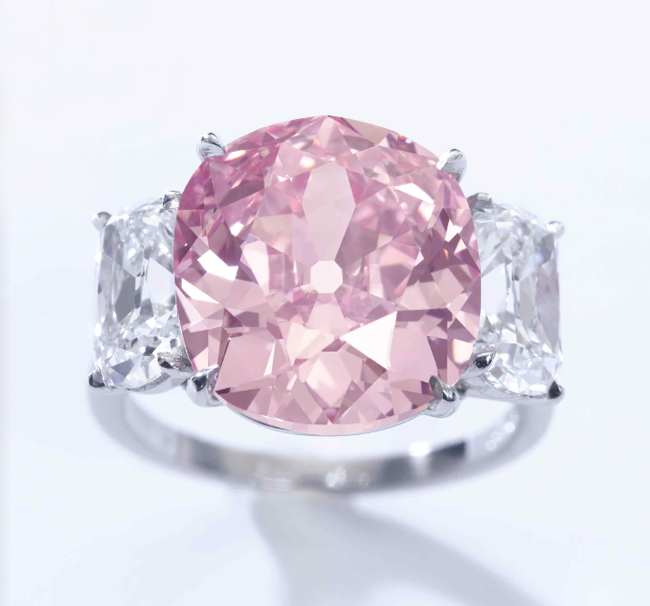 Historic Pink Diamond
" . . . [T]he Historic Pink', a ring with a fancy vivid pink diamond weighing 8.72 carats and with a classic non-modified cushion, which is estimated to sell between 14,000,000 to 18,000,000 US dollars, during a preview at the Sotheby's auction house in Geneva, Switzerland, Wednesday, May 6, 2015. This auction will take place in Geneva on May 12, 2015." (Global News)
References for Mathilde Bonaparte section
.
Blanche d'Antigny
His lovers were
:
1) Blanche d'Antigny
(1840-1874)
French actress and courtesan.
a.k.a. Marie Ernestine Antigny
.
Daughter of
:
Jean Antigny,
a sacristan at a local church
& Eulalie-Florine Guillermain.
"Blanche (born Marie-Ernestine Antigny), is widely believed to have been the inspiration for Emile Zola's infamous courtesan, Nana. She certainly met Nana's physical description, burnt through money at the same rate, and died a similar death to the heroine at the young age of 33. A part-time actress, she could list a Russian prince, Maharajahs and French bankers amongst her conquests. She kept a magnificent set of rooms in Paris, draped with turquoise satin and populated by liveried footmen, where she threw extravagant parties for her friends. She is infamous for appearing in public draped in diamonds." (
Decadent Handbook's Blog
) [
Bio3
:Amis et Passiones] [
Bio4
:Amis] [
Bio5
:Mossman] [
Bio6
] [
Bio7
:Blanche d'Antigny Blog]
" . . Blanche d'Antigny was 'imported' to Russia by its (sic) Prince only to be exported by the Empress, whom she had offended by buying a dress which was supposed to have been reserved for her Royal Highness. She is considered to be the model on whom Emile Zola based his famous courtesan Nana. . . ." (Writing with a Vengeance: n.p. )
2) Charlotte de Carbonnel de Canisy
.
Pauline Bonaparte
Princess Borghese
Duchess of Guastalla
by Francois-Joseph Kinson, 1808
@ Museo Napoleonico, Rome
Denis Decres
Duc de Saint-Germain
French admiral & minister of the Navy:
"On her return from Hayti did Pauline find Semonville, MacDonald, and Montholon still in Paris? Did she resume her former relations with them? Information on these points is somewhat scanty. If we are to believe Semonville's confidences, the answer is---Yes. It is possible. 'La diva Paolina' never turned a wholly deaf ear to a tender 'Don't say good-bye.' In any case, she welcomed back one admirer and one lover. The admirer was by no means unworthy of her: this was Denis De Cres, the admiral, Minister of Marine. She certainly encouraged him, for she almost sent him off his head. 'He very nearly got thin in consequence,' remarks M. Masson incidentally. It was not Pauline, however, who profited by the admiral's improved figure, but Rosine de Saint-Joseph, whom he married at Paris, November 15, 1813. If Pauline ever had any regrets at having used her heedless, fascinating ways to make game of De Cres, she might have consoled herself with the thought that she had escaped a second, and speedy, widowhood. In 1813 the admiral had only seven years to live."
(
Pauline Bonaparte and Her Lovers
:
103-105)
"And, in truth, it was a curious life that went on at M. Vinaille's villa facing the sea, where the Princess had taken up her quarters with her household. Its personnel took the greatest liberties and indulged in the most extraordinary etiquette. Not one of them but combined the most diverse duties. Thus Pauline's physician-in-ordinary, Doctor Peyre, who also passed for one of her lovers, undertook, in addition to his medical functions, those of steward to the Household. He was a kind of a maitre Jacgues, standing fiercely on guard in front of the cash-box. . . . ." (Pauline Bonaparte and Her Lovers: 187)
Marshal Macdonald
French marshal & military leader.
"...The Duchesse d'Abrantes declares General Etienne-Jacques Macdonald, who had fought against the Russians under Suvarov and was now governor of Versailles, to be a third lover." (Fraser, 2012, n.p.)
"During her stay at Nice, Pauline took as her lover a young musician from Turin, Felice Blangini, who played violin in an orchestra in Paris, and who was almost more supine than Madame de Chamboudoin and the other ladies. Blangini had originally attracted the attention of Pauline's sister Caroline Murat with some Italian nocturnes and romances that he composed while in Paris. Pauline then offered him the post of chef d'orchestre at 750 francs a month, although she had no orchestra. Now she called him to Nice, ostensibly so that she could study duets with him,... And indeed study they did...." (Fraser, 2010, p. 161)
1. Julie Carreau,
French dancer,
mar 1791, div 1802
" . . . In 1812, he had a love affair with Princess Pauline Bonaparte (1780-1825). . . ." (Napoleonic Society)
"Three of these liaisons became known. Nobody has ever suspected the fourth, the hero of which was the tragedian Talma. And now, suddenly, we come upon a dusty bundle which has lain forgotten in a garret, from which falls a packet of letters which enlightens us as to this new adventure of Pauline's. To tell the truth, some contemporaries had guessed as much; some, indeed, knew, and knew full details; but they were discreet. Talma's wife, in a book about her husband, is the only one to drop a hint concerning the romance which to-day is placed beyond doubt. 'Talma became a lucky man all of a sudden,' she writes. 'Being pursued by women of the highest position, challenged by tjem, in fact, the idea occurred to him of achieving celebrity in this direction, damaging as that is to domestic happiness.' Furthermore, a letter from Talma himself, addressed to his brother-in-law Ducis, allows us to guess what gossip was saying at Paris concerning his liaison with Princess Borghese. Writing from Lyons, August 2, 1812, he enquires, 'What are people saying at Paris? Any scandal-mongering? For myself, I don't suppose anybody is making any remarks, and I expect that the absence from Paris of the two persons, one in one direction, one in another (nominally), will have caused all comment to cease. My wife has been writing to me on this subject, and makes out that it is still being discussed, but that I don't believe.' At this period Talma was by no means a conquest to be ashamed of. If Pauline could have owned to having a lover, he would have been the one. He had by now reached the zenith of his great reputation as a tragedian, victor in the struggles which he had had to wage against his comrades at the Comedie in days gone by, at the dawn of the Revolution. . . It was nearly three months that this liaison lasted at Aix between the Imperial Princess and him who at this period remained the last hope of the tragedy to which his genius had imparted fresh life." (Pauline Bonaparte and Her Lovers: 203-209)
"...A young musician, Giovanni Pacini, encountered in the winter season at the Teatro della Valle, had reawakened in her the lust that had lain dormant during these years of exile...." (Fraser, 2012, n.p.)
" . . . Napoleon's death shattered Pauline's nerves, while her vanity and pride were damaged beyond repair by her last lover, a young composer, Giovanni Pacini. Flattered at first, the young man soon found her possessive, tiresome, and alas, old. She also, the lifelong invalid, became eventually a truly sick woman. . . . " (
A Traveller in Rome
:n.p.)
a.k.a. Viscount Ebrington.
Son of

:
Hugh,
1st Earl Fortescue
& Hester Grenville
1. Lady Susan Ryder,
daughter of
Dudley Ryder,
1st Earl of Harrowby,
mar 1817
2. Elizabeth Geale,
mar 1841
"...Earl Fortescue, of an ancient noble house, and in his youth a very handsome man, and reputed to have been a favored lover of Pauline Bonaparte, wore a dark blue coat, with spangle buttons,and the ribbon of the Garter over a white vest...." (Addams, 1890, p. 46)
13) Jacques Marquet, Baron de Montbreton de Norvins
(1769-1854)
"...When Napoleon deputed Gerard Duroc, grand marshal of the Tuileries Palace, to find five chamberlains to carry out this task, Pauline's choice fell on Montbreton, her neighbor at Montgobert, brother of Leclerc's secretary and long-standing friend Norvins and, it was said, her lover when no else offered...." (Fraser, 2012, n.p.)
14)
Jean-Andoche Junot,
1st Duc d'Abrantes
.
"After Freron's dismissal, another sighing lover presents himself---Andoche Junot, the future Duc d'Abrantes. At this time he was the General's aide-de-camp, and, as for Pauline, 'he loved her passionately, deliriously.' Later, he admitted that it was not reciprocated. 'She never loved me,' he confessed to his wife somewhat pathetically. He made matrimonial overtures to Bonaparte, alleging he was going to inherit 20,000 francs upon his father's death. The General answered very wisely that Junot senior was not yet dead and that the net profit at present was nil, concluding, 'You have nothing, she has nothing; what is the total? Nothing.' And things went no further. It is curious that Junot subsequently became a member of a family which the General had, at one time, thoughts of marrying into---the Permonds. Bonaparte had, in fact, proposed to Mme. Permon that he should marry her; her son, Pauline; and her daughter, either Louis of Jerome. . . ." (Pauline and Her Lovers: 54-55)
". . . On her arrival at Aix the princess received the homage of all the old nobility military and parliamentary. General Cervoni, a companion of her childhood, was received by her on the same cordial footing as of old, and maintained the same attitude himself so naively in fact, as one day to presume to sit down in a chair near her Imperial Highness while a numerous gathering of men and ladies remained standing. One of the princess's chamberlain's (sic) considered the general's behaviour so improper that he termed it impertinent and indecent. . . When this remark reached Cervoni. . ., it made him very angry. He is said to have marched up to the group of the princess's officials saying, 'Point out this wag to me so that I can give him a thorough good thrashing.' Cervoni added that the chamberlain took to his heels. Cervoni went back to the princess, who was the first to laugh at the snub to her obsequious chamberlain; and to show how entirely she was on the general's side asked him to arrange a reception and a ball for her at his country-house near Marseilles. Cervoni, when saying good-bye, added, 'I am going to get everything ready, but mind, no chamberlains. . . . " (Fleischmann, 1914, p.12)
the Apollo of the French Army.
Son of

:
Jean-Joseph Humbert & Catherine Rivat
17)
Jean Lannes,
1st Duc de Montebello
.
Portrait of Prince Jozef Poniatowski
by Josef Maria Grassi, 1810s
@ Royal Castle in Warsaw
Napoleonic Marshals & Generals

.
French aristocrat & military officer.
4th Duke of Wagram,
4th Prince of Wagram
a.k.a.
Alexandre Berthier, Louis Berthier, Captain Berthier
.
Marie-Louise Salivas
(1914-2000)
Natural offspring

:
1. Louise-Monique-Alexandra Berthier,
a.k.a. Monique Welson
Andre Massena,
Duca di Rivoli
Prinz von Essling
1st Duca di Rivoli,
1st Prinz von Essling.
a.k.a. the Greatest Name of My Military Empire (by Napoleon), the Wiliest of Italians
.
Husband of
:
Marie Rosalie Lamarre,
daughter of a surgeon.
His lovers waere
"...On April 17, 1810 he gave the command of the Army of Portugal to one of his most able marshals, Andre Massena, Duke of Rivoli and Prince of Essling. Massena was no longer young -- he was 55 in 1810 -- but he was a professional soldier, having served in the Royal Army in his youth. He became a successful smuggler, before resuming his military career in 1794, when he continued to increase his fortune... He was also fond of women; his current mistress, the sister of a member of his Staff, accompanied him in Spain, wearing the uniform of a hussar. Her presence was perhaps some compensation for an assignment which he had not sought, and thoroughly detested...." (Neillands, 1994, p. 103)
"...He had a reputation as an incorrigible collector of loot, and that in an army of looters. His current mistress, Henriette Lemberton, accompanied him to Spain, irritating the headquarters staff by always appearing dressed in the uniform of an officer of light cavalry...." (
Corrigan, 2006, p. 159
)
"At fifty-two, Massena was therefore a very senior marshal as well as a remarkable character. His mistress Silvia Cepolini having brought him luck on the Italian campaign, he took another, Henriette Lebreton, out with him to the Peninsila. There is a debate among historians as to whether she wore the uniform of a dragoon or a hussar, but she was the wife of a captain on Massena's staff and the sister of one of Massena's former mistresses." (Napoleon and Wellington: The Battle of Waterloo: 71)
Etienne-Jacques MacDonald,
Duca di Taranto
(1785-1840).
a.k.a. Etienne-Jacques-Joseph-Alexandre MacDonald, Duca di Taranto.
"Perhaps Napoleon's distrust of this dogged half-Scotsman did have a personal element, for Macdonald had lately acquired a considerable reputation as a lover. His most celebrated mistress was Pauline, prettiest and wittiest of the Bonaparte clan... She apparently devoted the maximum time to Macdonald for they are reported to have locked themselves up at St. Leu for three days, a supply of food having been sent in in advance. Napoleon loathed scandals that involved members of his family and he was extremely angry when he heard about this romantic weekend. He did not wholly forgive the future marshal until he hand him his baton on the field of Wagram, in 1809." (
Delderfield, 2002, p. 69
)
Jean-Andoche Junot,

1st Duc d'Abrantes
Jean-Andoche Junot, 1st Duc d'Abrantes
(1771-1813)
a.k.a. General Andoche Junot
.
Husband of
Laure Junot
,
Duchesse d'Abrantes
(1784-1838) mar 1800, daughter of Charles Martin de Permond & Panoria.
a.k.a.
Laure de Saint-Martin-Permon, Duchesse d'Abrantes, Laure Martin de Permond, Laure Permon
.
[
Ref1
]
" . . . Descended through her mother from the Imperial family of the Comneni. Born at Montpelier, she married General Junot on his return from Egypt, followed him on his campaigns, studied and observed much, and on her husband's death in 1813 devoted herself to the education of her children. She wrote several novels more suited for the circulating library than for seious reading." (
Memoirs of the Duchesse de Dino
: 291)
His lovers were
:
3)
Pauline Bonaparte
The Duchesse d'Abrantes's lovers

.
French novelist and
playwright
" . . . Metternich's simultaneous affair with Caroline Murat and Laure Junot was the best known of these scandal, for when the jealous Caroline tipped off Junot about his wife's infidelity, and Junot found the incriminating evidence Caroline had guided him to, he attacked his wife with scissors, leaving her half dead, tried to challenge Metternich to a duel and insisted that the Emperor declare war on Austria. Readers of the scandal sheets particularly enjoyed the alleged riposte by Madame Metternich when Junot 'peached' to her: 'The role of Othello ill becomes you.'" (Napoleon: A Biography: n.p.)
4)
Leon de Madaillan-Lesparre,
Comte de Lassay
(1683-1750)
Husband of Reine de Madaillan
"He had a liaison with Louise-Francoise, Duchess de Bourbon, known as Mademoiselle de Nantes, the illegitimate daughter (b. 1673) of Louis XIV and Madame de Montespan, and wife of Louis de Bourbon (1668-1710), Prince de Conde who, she had married in 1685...." (Busby, p. 140) [The Madaillan, Lords of Montataire]
"In the 1720s, Louise Francoise became the mistress of the marquis de Lassay. In order to be closer to her, he built the Hotel de Lassay next to the Palais Bourbon, her residence in Paris. Later on, a gallery was built, housing the grander, more public part of the collection of paintings that made Lassay's reputation as a connoisseur redound in Parisian circles for a generation after his death. The gallery that joined the two buildings also enabled the lovers to have better access to each other." (Wikipedia)
5)
Lucien Bonaparte,
1st Principe di Canino
.
6)
Maurice de Balincourt,
Marquis de Balincourt
(1789-1864)
"...Unwilling to join her husband in this unfashionable and distant outpost of the French Empire, far from the salons of Paris and her new young lover Maurice de Balincourt, Laure Junot remained in France along with the Junots' children." (Martin, 2011, p. 62)

"...Napoleon arranged her marriage in 18-- to his aide-de-camp, Andoche Junot. The marriage was unhappy and the Duchess had various lovers including Metternich, the Austrian ambassador. Angered by her infidelities and her continuing relationships with emigres, Napoleon ordered her to leave Paris in 1813 after the death of her husband; after the fall of the Empire she was obliged to stay in exile in Rome. Many years later, she eventually returned to Paris, where she wrote entertaining, but often incorrect and malicious memoirs." (Somerville, 2010, p. 303)
French general.
His lovers were
:
". . . Corporal Cervoni, however, with whose name hers is coupled, is not mythological; this is Jean-Baptiste Cervoni, born 1768, 'a man of merit, brave and honourable, albeit a Corsican,' says Barras concerning him. It was this same Cervoni who was the first to reconnoitre in Toulon, after its recapture, at the head of 200 men. He was killed on the field of battle at Eckmuhl. The list of Pauline's lovers is long enough for there to be no need to lengthen it by adding the name of Cervoni who had les brilliant adventures in love-affairs and in barracks." (
Fleischmann, 1914, p. 12
)
2)
Victoire Oeben
.
Military record: "A friend of the Bonaparte family. Soldier in the Royal Corsican regiment from 1783 to 1786. Colonel of the National Guard for his district in 1790, then second lieutenant in the 22nd cavalry and ADC to his compatriot, General Casablanca. Cervoni was promoted adjutant general chef de bataillon and de brigade before Toulon where he was military agent with the Representatives of the People (with Saliceti, no doubt), on 26 October and 20 December 1793. He became general of brigade on 14 January 1794 (confirmed on 24 December 1795) and general of division on 15 February 1798. After having exercised various territorial commands, he resumed active service as chief of staff of the 2nd corps of the Army of Germany (Marshal Lannes), and was killed, his head taken off by a cannon ball, at the beginning of the campaign at Eckmühl ... He had been wounded in the right leg in Italy on 1 June 1793, and in the thigh and the right arm at Toulon. On 14 June 1804, he had been named commander of the Legion of Honour. General Cervoni's name is inscribed on the Arc de Triomphe de l'Etoile, on the eastern side." Bouvier, F. Bonaparte en Italie, 1796, 1899, p. 652-3." (History Data)
[
Ref1
:Napoleon Monuments] [
Ref2
:11:Gedo]
a.k.a.
Jean-Francois-Joseph Debelle, the Apollo of the Army
.
French general & soldier.
His lover was
:
Marshal of France.
His lover was
:
"Bonaparte brought him from the Army of Italy where he was a general of brigade and where he established his reputation for courage and leadership. Made a General of Division for the invasion of the Holy Land, and subsequently becomes known as the 'Roland of the Army.' He became a Marshal of France and Duke of Montebello." (
Lewis,n.d., , n.p.
)
Jean-Robert Humbert
(1767-1823).
"...The city was a magnet for the beautiful people, the handsomest emigre being General Jean Robert Humbert, who had been in Leclerc's forces and then served as an escort for Leclerc's widow, the former Pauline Bonaparte, when she returned to France. Because Napoleon suspected that Humbert was one more of Pauline's innumerable lovers, he made his disgust clear, and the general left for New Orleans and remained there for life." (Cerami, 2004, p. 61)
Louis-Alexandre Berthier,
1st Prince de Wagram
(1753-1815).
1st Duc de Valangin,
1st Sovereign Prince of Neuchatel 1806,
Prince of Wagram 1809
Vice-Constable of the Empire 1807,
Marshal of France 1804,
Senator 1804,
Grand Master of the Palace 1804.
His lovers were
:
a.k.a. Madame Visconti.
"Berthier formed another and more romantic attachment during the halcyon days of this campaign. When the French made a triumphant entry into Milan two of the most celebrated women in Northern Italy hurried to greet the,, Grassini famous for her lovely voice, and Madame de Visconti, famous for her beauty. Both tried very hard to seduce the conqueror and both failed on account of Napoleon's attachment to his bride, Josephine. Grassini bided her time and a disillusioned Napoleon soothed her pride three years later. Visconti took second-best. She had noticed that Chief-of-Staff Berthier had fallen deeply in love with her at first sight and she became his mistress. The affair lasted so long that it became a standing joke in the years ahead...." (
Delderfield, 2002, p. 37
)
" . . . Napoleon tricked him into marrying Princess Elisabeth-Marie, niece of King Maximilian of Bavaria, and abandoning his beloved Madame Giuseppina Visconti. . . ." (
Napoleon: A Biographical Companion
: 25)
2)
Marie-Augustine Debee
.
Michel Ney, 1st Duc d'Elchingen
Michel Ney,
1st Duc d'Elchingen
(1769-1815).
French soldier and military commander.
Colonel in the Grand Armee (1794),
Brigadier-General (1796),
Lieutenant-General (1799),
Major-General (1799),
Commander-in-Chief of the Army,
Inspector-General of the Cavalry (1801),
Ambassador to the Swiss Republic (1802),
Marshal of the Empire (1804,
1st Duc d'Elchingen (1808,
Prince of Borodino (1812); 1st Prince de la Moskowa (1813)
a.k.a. Marshal Ney, le Rougeaud (the Red-faced or Ruddy), le Brave des Braves (the Bravest of the Brave), l'Infatigable (the Indefatigable), le Lion Rouge (the Red Lion)

.




His lover was

:
a.k.a.
Maria Johanna Elselina Verfelt, Ida Saint-Elme, Elzelina av Aylde Jonghe, La Contemporaine
.
References: [Bio1:Wikipedia] [Bio2:NNDB] [Bio3:Napoleon Series] [Ref1:Arwen] [Ref2:Executed Today]
Aglae,
Duchesse d'Elchingen
Lady-in-waiting to E
mpress Josephine 1802-1804
& Empress Marie-Louise 1810-1814
a.k.a. born Aglae-Louise Auguie, Aglae-Louise Auguie de Lascans, Aglae-Louise Auguier, Aglae-Louise Ney
.
Daughter of
:
Pierre-Cesar Augui,
French aristocrat
& Adelaide-Henriette Genet,
Lady-in-waiting to Marie-Antoinette
Wife of
:
Michel Ney
(1769-1815),
1st Duc d'Elchingen,
1st Prince de la Moskowa,
mar 1802.
Aglae Ney's personal & family background
". . . Aglae Louise Ney, nee Auguie
. . . was born on 24 March 1782 in Paris as a daughter of French aristocrat Pierre-Cesar Auguie and Adelaide-Henriette Genet, lady-in-waiting of Queen Marie-Antoinette. After the suicide of her mother in the days of the Great Terror she was adopted by her maternal aunt, (the) famous Mme. Campan. The latter introduced (the) young girl into new high society, and Aglae became (a) close friend of Napoleon Bonaparte's wife Josephine who promoted her marriage with Michel Ney, (the) celebrated Napoleonic general and from 1804 Marshal of France. . . Mme. Ney outlived her husband for almost 40 years. . . ." (Boris Wilnitsky, Fine Arts)
Her lover was

:
Michael Bruce

.
"Aglae Ney was the beautiful wife of the 'bravest of the brave' Michel Ney, Prince of Borodino and Moskowa. She was falling in love with a young Englishman called Michael Bruce who in turn was being pursued by the wild young Caroline Lamb! Within two years the Duke was due to have acute problems with the Ney family. . . ." (
Wellington the Beau
: 73)