Yekaterina Skavronskaya
Princess Bagration
Russian aristocrat, political salonniere & diplomatic figure.
Also known as:
Catherine Bagration
Ekaterina Pavlona Skavronska
Katharina, Princess Bagration
Katharina Pavlovna Bagration
Daughter o

f

: Count Pavel Martinivich Skavronsky, Chamberlain of the Royal Court & Minister Plenipotentiary to Naples & Yekaterina von Engelhardt, Maid of Honour to Empress Maria.
Princess Bagration's physical appearance and personal trait

s.
"Skavronskaya's daughter, also Ekaterina, became a European scandal. Known as the 'Naked Angel' because of her fondness for wearing veil-like, transparent dresses and 'le Chat Blanc'--the 'White Pussycat'--for her sensual avidity... Like her mother, who was Potemkin's 'angel', her face had a seraphic sweetness, her skin was alabaster, her eyes were a startling blue and her hair was a cascade of golden locks.
The beautiful naked angel.
".

. . . With the Duchess of Sagan hosting her fashionable salon on its second floor, there was another woman, in a parallel wing, just as intelligent, witty, rich, beautiful, and it must be said, controversial. This was Princess Catherine Bagration, the thirty-one-year-old widow of Pyotr Ivanovich Bagration, a Russian general and war hero who had fallen at Borodino. She was blonde with light blue eyes and pinkish white skin that one admirer compared to alabaster. Her scandalous evening gown, very low cut, earned her the nickname 'the beautiful naked angel.'" (Vienna, 1814: 32)
Princess Bagration's personal & family background
: "Katharina Shakvronska was the daughter of the Latvian peer, Count Pavel Shavronksi, and was the great-niece of Prince Potemkin, the powerful favourite of Catherine the Great. Her family were closely related to the empress Catherine I (1727 – 1727), the widow of Peter the Great. Educated at the court of Catherine II and Maria Feodorovna, she was married firstly (1800) to Prince Peter Bagration (1765 – 1814)." (A Bit of History)
A prominent figure in European society life

: "It was Blome's maternal grandmother, Ekaterina Pavlovna Skavronskaya (1783-1857), Princess Bagration, who above all gave a decisive turn to his diplomatic career. She was a prominent figure in European society life and had an eventful life. She was related on her father's side to the Russian Empress Catherine I, and on her mother's side she was a cousin of Grigory Potemkin, the lover and adviser of Catherine II. At a young age she became lady-in-waiting to Empress Maria Fyodorovna, the wife of Paul I. In 1800 she was obliged to marry Major-General Pyotr Bagration (1765-1812), who came from a princely Georgian family and was at that time making a meteoric advance in the Russian army. He was a true fighting general, recklessly brave, a man of a volcanic temper and a warm heart who was idolized by his officers and men. He fell out of favour with the Tsar and joined a circle of conspirators who assassinated him in March 1802. In the meantime, Bagration had sent his young wife to safety in Dresden, the capital of the principality of Saxony. This Baroque city, known as the Florence of Germany, had after the French Revolution become a privileged sanctuary for gallant Polish and French aristocracy and the scene of a busy salon life. Ekaterina Skavronskaya, a ravishing beauty, quickly became a figure of note in that milieu. She would never return to Russia where her husband, under the new Tsar Alexander I, had a brilliant military career and would distinguish himself in the successive wars against Napoleon."

(

The Struggle with Leviathan: Social Responses to the Omnipotence of the State, 1815-1965: 33)
Pyotr Bagration
"This is what General Louis Alexandre Andrault de Langéron had to say about this union : 'Bagration married the young niece of the great Prince Potemkin. This rich and lustrous partner did not suit him. Bagration was a mere soldier, with the tone and manners of one, and he was extremely ugly. His wife was as white as he was black, and she was as beautiful as an angel, bright, the liveliest of the beauties of St. Petersburg; she would not be happy with such a husband for long...'." (
Wikipedia
)
Prince Bagration's physical appearance & personal qualities
.
"Being of average height, thin, with wavy brunette hair, Bagration had the typical Georgian hooked nose that gave way to a number of witticisms and jokes. . . He wasn't handsome, but the glory and reputation of Suvorov's disciple made a strong impression. Soldiers called him 'The Eagle,' while among the general population he was known as 'Bog-rati-on ('Bog [the god]-rati [army]-on [he is]' -- The God of the Army." (Russiapedia)

Prince Bagration's personal & family background.
"Bagration descended from an ancient Georgian royal dynasty of Bagrations (Bagrationi in Georgian) coming from the Tao-Klarjeti region in the south-west Georgia. The Bagrationi actually governed Georgia for almost 900 years. Among Peter's ancestors one could find many monarchs and prominent statesmen." (Russiapedia)
"Here, again, we meet with this Major Caradoc, the future Lord Howden, the lover and afterwards the husband of Princess Bagration, who was just then choosing Paris as the scene of his amorous exploits. His position as diplomatic attache procured him from time to time a few diplomatic missions; but his social successes were far greater than were his military or statesmanlike gifts. He was frequently to be seen at Lady Blessington's. He was a handsome young fellow, clever, and a decided fop; 'a great man of fashion,' as Castellane tells us, 'a sort of dandy, but a very decent sort of fellow.' And Lady Granville adds, the day after one of her receptions: 'Caradoc is a great card in my game. There are about six of them in love with him.' It would appear that the gallant Major did not show himself insensible to the attractions of the beautiful Duchess de Guiche, and paid her his court in such a manner as to draw down unpleasantness upon himself. 'The Duchesse de Guiche,' goes on Lady Granville, 'has broken a small blood-vessel, and does not stir out. It is said that the Major (Caradoc) has been all but forbidden the house, and certainly he never seems to go there from hence with drums and flourish of trumpets as he used to do when the clock struck ten. His own excellent taste and judgment have led him to select Princess Bagration as his consolation.' And a few das later: 'Madame de Guiche re-appeared yesterday. The Major stayed away, which 'intrigued' the world very much. Some think he has had a quarrel with Bagration, others that an encounter with the rival queens would have been too much for his nerves.'" (Eminent English Men and Women in Paris: 244-245)
Lover in 1814
.
" . . . September 25 (1814): Alexander arrives in the Austrian capital for Congress of Vienna, where he has a liaison with Princess Bagration. . . ." (Alexander of Russia: Napoleon's Conqueror: 319)
"There was much sexual congress at the Congress: when the Duke of Wellington arrived, he brought a notorious French-Italian actress- courtesan as his companion. Vienna's two female stars lived at the top of the staircase of the Palm Palace: on one side lived the aforementioned rich, powerful Wilhelmina de Sagan, who, moaned Metternich, 'sinned several times a day' and slept with everyone important. Across the corridor was another astonishingly promiscuous adventuress, Princess Catherine Bagration, who was the great-niece of Prince Potemkin, Catherine the Great's fabulous partner, and widow of the war hero Prince Bagration, killed at the Battle of Borodino. Known as the 'White Pussycat' (alabaster skin, blue eyes) or the 'Naked Angel' (due to her taste for seethrough dresses), Princess Bagration, who had a child by Metternich, was sluttish even by the standards of the Congress. All Vienna watched in fascination: both women slept with Alexander." (Daily Mail)
The 'Naked Angel' became the Tsar's favourite

: "In every way, the nobility of Europe came to Vienna to reclaim and reassert their ancient rights and privileges, including the right to do as they pleased. The art of excess reached perhaps unprecedented heights. In his free hours, Great Liberator Alexander turned out to be a heroic womanizer. Of the endless stories of trysting during the congress, one address can stand for all. In town there was a palace with two staircases leading to separate apartments that had been rented to two aristocratic visitors. The top of the left staircase was the domain of the Russian princess Katharine Bagration, whose lifestyle earned her the nickname 'the Naked Angel.' She established a virtual brothel for the aristocracy, with herself as open-armed proprietor. At one point a prince broke down a door in her flat to find his very young daughter in the arms of a Russian nobleman. . . At the congress, Bagration became the tsar's favorite, though neither was remotely faithful. Many nights police spies observed the tsar trudging up the left-hand staircase. Emperor Franz would chortle over the reports at breakfast the next morning. One police report ran, 'The porter rang four times to announce [the tsar], and the princess . . . came out on the staircase dressed in a neglige. She took Alexander into her boudoir. . . ." (Beethoven: Anguish and Triumph: 635)
Guardian angel comes to rescue naked angel

: "Ekaterina Skavronskaya was a wealthy lady, but her lifestyle during the congress was so flamboyant that it almost ruined her and she even had to ask her cook for credit. Weighed down by astronomical debts, she was placed under house arrest in June 1815 by the Viennese city magistrate. However, she managed to escape from the city and fled to the Allied headquarters, hoping that her aristocratic friends would throw her a lifeline. Apparently, she succeeded, and in all likelihood it was Alexander I who helped her out of the emergency." (The Struggle with Leviathan: 37)
Charles Stewart Vane
3rd Marquess of Londonderry
"By the end of the Congress, Sagan and Bagration would fight over another lover, Sir Charles Stewart, brother and companion of Lord Castlereagh, leader of the British delegates. Bagration had been simultaneously having affairs with Stewart and the Crown Prince of Wurtemberg (sic), a game she thought most amusing. Bagration became so desperately in love with Wurtemberg that she neglected Stewart, losing him to rival Sagan. Ironically, Stewart was the bad boy of the Congress, constantly getting drunk, and even causing carriage accidents. He was almost as handsome as his brother and just as charming. Sagan enjoyed a long and frivolous affair with Stewart and must have delighted in spiting her rival." (La Plant, p. 7)
3) Friederich von der Schulenberg

.
Klemenz Wenzel von Metternich
4)
Klemenz Wenzel von Metternich
.
"...At that time, both of them had been living in Dresden... Metternich was a young twenty-eight-year-old ambassador on his first diplomatic mission; Bagration, the beautiful nineteen-year-old wife of a much older Russian general, who was almost always somewhere else. By 1802, the princess had given birth to a daughter and boldly named her Clementine, after the man who almost certainly was the father, Klemens Metternich. This extramarital affair did last long, but it had left its scars...." (
King, 2009, p. 66
).

"...[T]he well-known Russian general, Prince Piotr Ivanovich Bagration (1765-1812)...had died at the famous battle of Borodino during Napoleon's Russian campaign. Twelve years earlier, Bagration had married, by order of Tsar Paul I, the Countess Ekaterina Pavlovna Skavronska (1783-1857), whose great-grandfather had been a brother of Tsarina Catherine I and who on her mother's side was a close relative of Prince Grigory Potemkin. There was a significant age difference between Bagration and Skavronska. When the former fell out of favour with Tsar Paul I, he sent his young wife for safety reasons to the royal Court of Saxony in Dresden. It was in this privileged place of refuge for courtly nobles, as yet untouched by the French Revolution, that she came to know the Austrian envoy, Klemens Metternich. It was the beginning of a long-lasting and passionate relationship. Ekaterina Skavronska was not only breathtakingly beautiful, but also very intelligent and deeply interested in politics...." (Becker, 2006, pp. 199-200)
"Highly intelligent, dark-haired and angelically beautiful, Princess Bagration became the mistress of the Austrian chancellor Prince Metternich (1801) and was the mother of his daughter Clementine Bagration (1802 – 1829), who was raised with his own legitimate daughters. This liasion lasted until 1812, when her husband was commanding Russia's Second Army. Her rivalry with the Duchesse de Sagan, Metternich's new mistress, was said to have afforded him much amusement. She was used by the Russian tsar, Alexander I as a spy against Austria, and was one of the most prominent society ladies present during the Congress of Vienna (1814), and she is frequently mentioned in the diplomatic correspondence of the period. The princess returned to Paris (1815) where she later remarried secondly (1830) to a British peer, John Hobart Caradoc, second Baron Howden (1799 – 1873), she being fifteen years his senior. They were later formally seperated (sic)." (A Bit of History)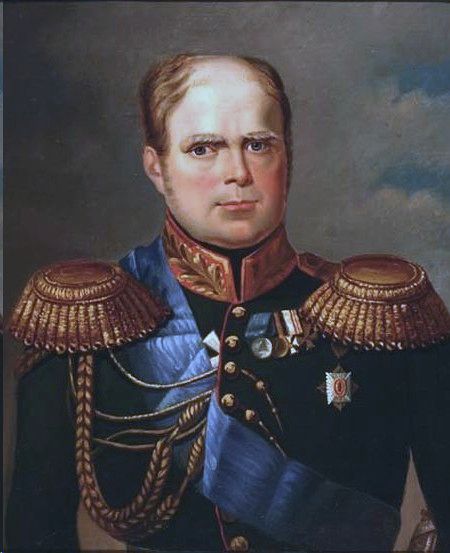 Konstantin Pavlovich of Russia
"Bagration was a striking beauty with golden hair and a white, translucent complexion. She usually wore very low-cut clothes that earned her the epithet of 'the naked angel'. Count de la Garde Chambonas thought she combined oriental sensuality with Andalusian grace. But Bagration had more to offer than just her physical charms; she was extremely intelligent, with keen political insight, and above all the ear of the Tsar. Furthermore, she also granted favours to his brother, Grand Duke Constantine, as well as to several other princes. She finally entered into a more permanent (in her case, a relative term) relationship with Crown Prince Wilhelm of Wurttemberg, who later, on his marriage to Grand Duchess Ekaterina Pavlovna, would become the father of the future Queen Sophie of the Netherlands."
(
The Struggle with Leviathan: Social Responses to the Omnipotence of the State, 1815-1965: 36)
Ludwig I von Bayern
Ludwig Ferdinand von Preussen
by Jean-Laurent Mosnier, 1799
8) Count Stanislaw Potocki

.
"In the same year she moved to Paris, where the secret police kept her luxurious mansion at number 45 Rue du Faubourg Saint-Honoré under surveillance. Informants hired to follow the princess constantly sent them reports. One informant wrote: 'This lady is very well known in high society due to her political influence and coquetry. On Monday night, quite late, two Poles left her, and one of them, Count Stanislas Potocki[8] returned. Such antics are frequent. .. the Duchess is very fickle.'" (Wikipedia)
Wilhelm I von Wurttemberg
"Another matter that had bothered the princess was the departure of a new lover she had taken, the Crown Prince of Wurttemberg. She accompanied the handsome prince out of town, all the way to the first postal stop, Perkersdorf, where they said good-byes so tender that one police agent noted ironically it might lead to the birth of another 'illegitimate child for the virtuous princess.'" (King, 2008)
Princess Yekaterina Bagration Gallery
.
Yekaterina, Princess Bagration
by Jean-Baptiste Isabey, 1820